We recently conducted a survey across Wikia to learn how Wikians are viewing and using video - on Wikia and on the web in general. We want to share this information with you so that you, as a contributor, get valuable insight into what your community and audience is looking for when visiting your wiki.
The survey began in December 2012 and was completed by over 2,000 Wikians (thank you!). This included a broad range of wiki topics and users from various participation levels. Below is a summary of their feedback.
Conclusions
The survey results suggest that using video to expand the content of your wiki would encourage users to dive deeper into the content and keep them for longer periods of time. Having video as part of your wiki helps attract more visitors who are looking for the content you have created with the upside that the next video viewer may become the newest member of your community! Based on the results, we will be investing more resources to building out the video experience on Wikia to help support communities and their video objectives.
Overview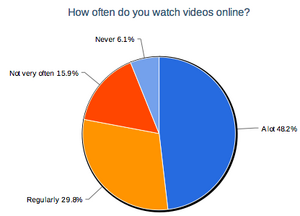 Almost 50 percent of our survey responders say they watch video online a lot. This finding is in line with the general industry trend for watching videos online. According to Cisco, video will increase from 30 percent of Internet traffic to 90 percent of Internet traffic by 2013 (Cisco, 2010). However, only half of the users who said they watch a lot of video have been able to find videos to watch on Wikia. Furthermore, almost 50 percent of the users who said they haven't watched a video on Wikia have not done so because they had never come across a video on Wikia. Of those that have watched a video on Wikia, 38 percent said they watched an embedded video on a page.
How can you use this information to engage your audience? Many of your viewers are people who like to watch a lot of video. Adding relevant video into your articles next to your content is a way to meet your community's needs and encourage them to explore your wiki further.
What we're doing
We've been putting big efforts into video on Wikia because video is forcing a major shift in the way that people are consuming content online. Video not only has the power to drive more traffic to your wiki through search, but also to increase engagement with the rest of the content on your site. As a result, you are left with more engaged visitors. Video = opportunity to grow.
Enterprise search provider Attivio found that pages with video attracted 2-3x as many monthly visitors, doubled time on site, and achieved a 157% increase in organic traffic from search engines (MarketingSherpa, December 2011). And according to SEOmoz, blog posts incorporating video attract three times as many inbound links as blog posts without video (SEOmoz, October 2009). This all leads to more time spent on your wiki - which results in more people reading your content, joining your community and potentially becoming your next top editor.
Wikia is making great strides to improve the video experience on Wikia - increasing search engine visibility, offering Wikia Communities licensed content through our library (available at video.wikia.com) and improving the viewing and contribution tools across the platform.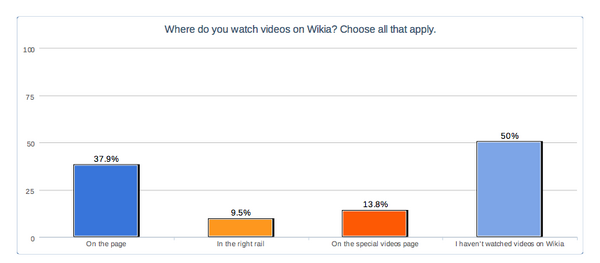 Vertical Breakdown
Wikia Video Game Communities
When asked what type of video game content survey participants in the gaming hub would like to see, over 60% said they would watch walkthroughs, gameplay and trailers over other types of videos. Including walkthroughs and gameplay videos on Level articles is a great way to integrate this request into your wiki pages. Trailers are also popular and tend to do really well on Main pages for new games.
Wikia Movie Communities
To no surprise, movie wiki fans were most interested in watching trailers for movies as well as clips of scenes from a movie, with 70% of survey participants interested in this type of content. As with gaming trailers, movie trailers are a great fit for main pages. There was also some interest in behind-the-scenes and interviews with actors and directors. These are most viewed when on actor or scene pages.
WIkia TV Show Communities
Almost 70% of our survey participants want to see full episodes on TV show wikis. That came as a surprise as we tended to believe that users would go to designated video sites to watch full episodes. However, given the rich context that our TV show wikis offer, it makes sense that your visitors would want to dive right into a video to see the episodes as described on the article.

WIkia Lifestyle Communities
As expected, survey responders expected to see plenty of travel guide videos on Travel wikis, but surprisingly were interested in seeing National Geographic type nature shows on these wikis as well.
Not surprisingly, food and drink wiki readers are interested in seeing tips and videos that show them how to cook their next meal. Being able to see it visually provides an additional level of detail and guidance, helping even those who have trouble boiling water.
Most users who are interested in "how-to" wiki content are looking for crafting and home improvement content to visually see how they can get their home projects done.