Please put new messages at the bottom of the page. NOTE: I will reply on your talk page at your wiki, so if we've never talked before, be sure to let me know which wiki you are from.
Extending infobox
Hi JoePlay, I'd like to extend the infoboxes from ten to 12 rows, as some of the other wikis use. Thanks. Jamie95403 11:55, October 29, 2011 (UTC)
Elder Scrolls Homepage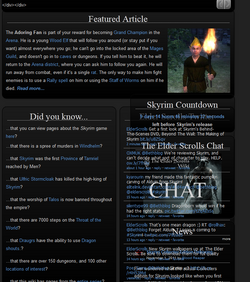 Hey JoePlay, there seems to be some sort of an issue with theElder Scrolls Wiki homepage. The collums are on top of eachother. I thought you may know how to solve the issue. --Zluhcs  talk page  my edits  Elder Scrolls Wiki-chat 14:17, November 1, 2011 (UTC)
Ace Combat wiki
JoePlay, it's been about a month since we spoke about Acepedia. We have the main page slider, but there's no changes with the main page's design. I'm requesting for a redesign of the main page. Hope you haven't forgotten about us. Reply and I'll give you the design details. ProtoStealth 01:25, November 4, 2011 (UTC)
RE: Main Page Revamp (Gran Turismo Wiki)
Well, here are a few things I'd like to do with the main page.
#1. Keep the notices at the bottom of the page, but put them in a box.
The copyright notice is there to keep Sony and Polyphony Digital from suing us, and the "security notice" is there to bring to light the fact that we are dead serious about our users' privacy and security, and to dissuade them from revealing personal info in parts of the wiki which are too easily accessed.
#2. Take The Elder Scrolls Wiki's main page source, but add a few touches to make it unique.
I really like what you've done with TES Wiki's main page, but when you're porting it over to us, I'd like a few drop shadows on the boxes to make the main page more 3-D looking, and also a red-to-black gradient in each of them, but if you think that that would be too much red, then blue is acceptable as well. Also, be sure to keep both news boxes - we like to cover both news about the wiki and real-life motorsports news. If you come up with another idea to make GTW's main page unique, feel free to add it.
Oh, and BTW, you've done a commendable job on making the interface darker. There are just a few things that I've found: for one thing, the icons in the Admin Dashboard are no longer visible, and the rest of Special:AllMessages still needs to be styled; I'm thinking of replacing the gray with transparency, and maybe, for messages which have been edited, 30% transparent red BG for the original text, and a 30% transparent blue BG for the custom text.
Once again, I can't think of a way to ever repay you. Thanks for helping us out! Gp75motorsports REV LIMITER GT-PT/GT-EN/CSW 14:59, November 5, 2011 (UTC)
RE: Main page redesign (acepedia)
To begin, excuse me for not replying to your message immediately. At this moment I'm very busy with a major project, which will keep me running for this whole weekend.
Now, concerning the main page redesign, good job with the category buttons. Now, the last thing I need you to do is redesign the main page itself. Below is a short list of guidelines and tasks:
Redesign the "welcome" section
Include an "introduction to/what is Ace Combat?" section in a box w/ round corners
Remove the poll section
Redesign the news section at the bottom of the page
I'll message you if new ideas come to mind. Don't forget this one, ProtoStealth 19:54, November 5, 2011 (UTC)
Content Team Requests
Hi, I'm an admin on the Reborn Wiki, and I recently left a request on the Content Team Request page, but you seem to have overlooked it. If you haven't noticed it, please let me know the status of my request soon! Thank you. ChaosVoid
help
got a bit of a problem on homefront. The Evil Dr. F talk 02:36, November 10, 2011 (UTC)
Elder Scrolls Wikia
Just wanted to say ... thanks for that information the other day! I had no idea that we had beaten the Vault's all-time record. Just goes to show, that underdogs can win if they persevere long enough. (I remember back in February and March talking with Ausir about how quiet the Elder Scrolls wiki was. Now look at it! Anyways - thanks once again! Timeoin•Say G'Day•View my work•See current projects 04:35, November 19, 2011 (UTC)
Hi, i was wondering if we could make the Nintendo Footer, as you can see, I made the template. Can I implement it on wikis? Template:NintendoFooter --Bullε t (Novandals)(Don't be A Jerk)
22:37, November 19, 2011 (UTC)

Hey, I would like to know if you can make a sign for my wiki with "The Banned Wiki" written inside on of those circles with the red line through it, If you can then great, Ive seen Country Music Wiki so Im confident that you can do it.
Thanks,
DeanSims 18:25, November 20, 2011 (UTC)
Moved to new site
Hi JoePlay, After talking it over with technical support, I moved Claymore World Wiki to a new site. All your templates appear working. The only thing needed is to change the wordmark from Claymore World Wiki to Claymore New Wiki.
Also, I changed my username from jamie95403 to jamieclaymore. Thanks! Jamieclaymore 01:44, November 21, 2011 (UTC)
Theme
Hello JoePlay, I'm finished putting categories in every pages in the Fatal Frame Wiki, that includes the pages that did not have a category, is it possible for the Wiki to have a new theme for that Wiki? User:White Flash/Shadowsig 19:41, November 22, 2011 (UTC)
Anime Universe Wiki Background
Hey JoePlay can you make this background I made into 100KB, here's the link to it
http://i4.ytimg.com/bg/c8pAfqH8wqbPkV94H8CF8w/106.jpg?app=bg&v=4ecd0135
and also can you make it fit? -Thanks, Rileyfreeman10 (talk)
Anime Universe Wordmark
Thanks JoePlay you did the exact way I wanted, this is the last thing for me can you make me an awsome Wiki Wordmark for me that only have the words "Anime Universe" you can add a pic if you want!
-Thanks, Rileyfreeman10 (talk)
Thank You
Thank you for telling where to go. I just wasn't sure, but I know what to do now. There will be 200 pages soon enough. Annasean51 21:36, November 28, 2011 (UTC)
I came to an agreement with the other Once Upon a Time Wiki and we're combining now. I'm not a bureaucrat, so I can't make people admins. Could you make these users admins? Agent45 and Evanf. Please.
Annasean51 04:29, November 29, 2011 (UTC)
Thank you so much! I won't let the power get to my head. Annasean51 21:36, November 29, 2011 (UTC)
HELP ME!!!
Hi, Im Katiefrog217 from The Ranma Wiki and I need help with something. Im currentl working on the summary for episode 133- a teenage ghost story and im doing most of it from my phone so I can't do lay out. do you think you can do the layout for me? I could handle the rest if you could, thank you!
Recess Wiki
Hey.. I would love to help me with this wiki right here http://recess.wikia.com/wiki/Special:WikiActivity.. Like, can you help with the main page and etc.. Thanks LPK ..!!