Wikia music fans have a lot to be excited about this month. Our largest music community, LyricWiki, recently turned eight years old! To celebrate, we're excited to release — today — a completely redesigned lyrics app called Lyrically. Along with the new mobile app, the LyricWiki community will get a fresh new look and name, LyricWikia. Since its launch in April 2006, LyricWikia has grown to over 2.7 million pages and has been used over a billion times by music fans around the world. Not only is LyricWikia one of our largest fan communities, it was also the first fan community to appear on a second screen, bringing more than a million fan-created lyrics to Wikia's first ever mobile app. Because of this, our mobile team was thrilled to have an opportunity to design a completely new mobile lyrics experience that makes it easier than ever to sing along to your favorite songs.
Now Playing Lyrics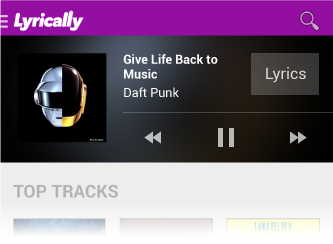 With this update, Lyrically now integrates with your favorite mobile music players for easy access to lyrics anytime you're listening to music. So next time you're wondering what that singer is talking about, simply open up Lyrically and the lyrics will be there waiting for you.
Lyrically for Android supports every music player we could get our hands on, including: Google Play, Pandora, Spotify, Rdio and many more. On iPhones and iPods Lyrically supports the built-in Apple Music app.
Available Today
Lyrically is available today in the App Store and Google Play, so please download it and let us know how you like it!
Want to stay up to date on the latest feature releases and news from Fandom?
Click here to follow the Fandom staff blog.
Interested in learning more about community management on Fandom?
Click here to view our community management blog.

Would you like insights on wiki building and usability?
Read through our Best Practices guides for keeping your community growing and healthy.
Want to get real-time access to fellow editors and staff?
Join our Official Discord server for registered editors!
Community content is available under
CC-BY-SA
unless otherwise noted.