Hi Guys, I am here to talk about the Trickster Wiki that KeyCode and I made. I am the Co-Founder. Anyway, I am here to talk about Trickster this new anime that just released. 
The story is set in 203X, and the Shounen Tanteidan (Boy Detectives Club) have been assembled under the mysterious detective Kogorou Akechi. Their actions have led to the resolution of various small and large incidents. One day, team member Kensuke Hanasaki meets a boy named Yoshio Kobayashi. Kobayashi, who has an undying body because of an "unidentifiable fog", wishes his own death and refuses contact with others. Hanasaki takes an interest in Kobayashi and invites him to join the Boys' Detective Team. The encounter eventually leads them to the connection between the criminal nicknamed "Fiend with Twenty Faces" (Kaijin Nijuu Mensou) and Kogorou Akechi.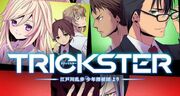 Take my word, IT IS EPIC! I mean come on. 2 guys who are detectives, a utopia of crazyness! That is great. I strongly suggest you watch this. I have started watching it and wow, It is great. 
Trickster is the Only character I truly like. And yes he wants to die. Also Kensuke, that casanovic person who always tries to woo girls he saves.
On the Trickster Wiki we have a team of Dedicated admins a B-Crats who are doing there bit to make the wiki more great!
So come and enjoy. Maybe you can be our next Admin. Who know?
Community content is available under
CC-BY-SA
unless otherwise noted.