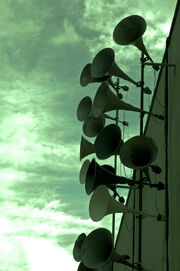 Want to get new eyes on your wiki? Need some fresh editors? Want to share your awesomeness with the rest of the world? Keep reading, we're going to give you some of the tips we use for promoting wikis both on and off Wikia. Enjoy!
Promotion on Wikia
Keep adding content: More content gives people more reasons to visit.
Create a great mainpage: Make sure it's welcoming and keep important links at the top -- this will help with SEO and get your wiki noticed by the search bots. Try to keep around 100 links maximum on the main page, and make sure they relate to the topic of your wiki. The links that crawlers see first should be links to the most topical information (characters, weapons, etc.).
Request a spotlight: Once you meet the criteria, request a spotlight, and get promoted across Wikia.
Create of network of related wikis: By sharing links you increase the chances of someone on Wikia seeing your wiki and give yourself a boost in search results. A good example of this is the Anime Box at the bottom of wikis like Narutopedia.
External Promotion
Facebook: Create a Facebook page where you can post about changes to your wiki, milestones you hit, fun facts and interesting news.
Twitter: Start a Twitter account which will allow you to search for fans of your topic and follow them - the more people you follow, the more followers you'll gain. Make sure to maintain a consistent stream of tweets to keep your audience interested, including hash tags and links to popular pages on your wiki in every tweet. Hash tags ensure that people searching for tweets about your topic can find you--some examples are #Glee, #HaloReach.
Tell your friends: Share your wiki with your friends. If everyone on your wiki posts a link on their Facebook account or sends an email to friends who are interested in the topic, you may be able to stir up quite a bit of interest.
Contact other fan sites: Find external fan sites related to your topic and request to join their affiliate network. This means that you offer to link to their site from your wiki on the condition that they link to your wiki from their site. Some examples of wikis that currently do this are Glee, Trueblood and Twilight. Creating a strong affiliate network connects your wiki to external fans who may not otherwise find your community, and also improves your search rankings.
If you have any tips for wiki promotion you'd like to share, please leave them in the comments.
Want to stay up to date on the latest feature releases and news from Fandom?
Click here to follow the Fandom staff blog.
Interested in learning more about community management on Fandom?
Click here to view our community management blog.

Would you like insights on wiki building and usability?
Read through our Best Practices guides for keeping your community growing and healthy.
Want to get real-time access to fellow editors and staff?
Join our Official Discord server for registered editors!
Community content is available under
CC-BY-SA
unless otherwise noted.