Greetings Wikians!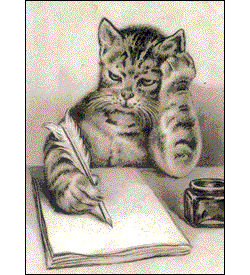 With the recent popularity of our Valentine's Day poetry blog, we've decided to launch a Wiki Poetry Contest!
That's right, it's time for you to flex your creative muscles and craft some beautiful wiki-themed poetry. We'll be reading our favorites as well as announcing the winners LIVE at a very special Google Hangout on April 1st. (No foolin'!)
Here are a few poems to get you in the spirit. If you can can recall, here's my painfuly bad poem from earlier:
Roses are red,
Violets are blue,
If you edit my wiki,
I'll edit yours too!

Any kind of poem is fair game. Haikus were extremely popular last time, so feel free to submit as many as you want. Remember, a haiku is traditionally written in a pattern of 5-7-5 syllables. Here is one of our favorite Haikus from last time:
So many pages [5]
Compulsively I edit [7]
All of it for love. [5]
- Submitted by Dinoguy1000
PRIZES:
This wouldn't be a propper contest without prize, now would it? We'll be dishing out a few Wikia Swag Bags to 3 Grand Prize winners. Swag Bags include Wikia T-shirts and other goodies. Grand Prize winners will also have their poems read aloud LIVE during our special Hangout on April 1st. Runners up will receive fame and glory by having their poem read aloud* by staff LIVE on April 1st.
*Poems may or may not be read aloud in silly accents or in silly hats
HOW TO ENTER:
To enter, simply comment below with your poem. Poems MUST be related to Wikia. They can be about anything wiki-related! Poems may be submitted in any form. (we love haikus and limmericks !) 

RULES:
This contest is open to EVERYONE*
You're welcome to enter as many times as you'd like. 

Be silly! 

Get Creative! 

Most of all, HAVE FUN!

Poems MUST be related to Wikia or wiki themed. 

You have until 5pm PST on March 29th to submit your poem. 
Winners will be announced LIVE on a very special Google Hangout on April 1st.
(*except for Wikia staff :p)

Ready? Set? WRITE! 
EDIT: Winners are now live!
Community content is available under
CC-BY-SA
unless otherwise noted.