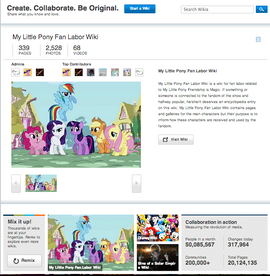 One of the most common questions we encounter here on Wikia is "How do I attract more people to my wiki?" In the past we've posted some pretty sweet guides as well as created a space for wikis to ask others to join them. We would now like to introduce you to a new and exciting feature we hope will help your community grow and flourish!
Back in April, we redesigned the main page of wikia.com to feature some of our most popular and interesting wikis. We always had the intention of opening the space up to anyone who wished to show off their wiki. Today we're pleased to announce our latest feature, Promote!
Promote allows any admin to submit their wiki to be featured on the main page of
wikia.com
.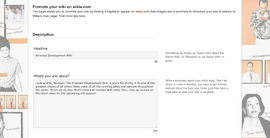 To do so, visit the admin dashboard on your wiki, then click the Promote button (or you can go directly to Special:Promote). Once there, simply upload an image that best represents your wiki, create a headline and a description, then hit publish! Your wiki will then be added to the promotion queue, and should appear within 2-4 business days, once is completes our review process.
Unlike Spotlight Requests, there are no minimum requirements for uploading your wiki to wikia.com. So if you have always wanted to be highlighted on wikia.com, now's your chance! For a complete step-by-step guide please check out the help article.
Important things to know
This feature is currently only available for wikis that have been upgraded MediaWiki 1.19. Check out this blog post for more information.

If Special:Promote is not yet available on your wiki, please use Special:Contact to let us know what wiki you would like the tool on

All images must go through our approval process (hence the 2-4 business days wait time). You can check the status of your wiki by navigating back to the tool.
Monobook users, please keep in mind that in order to use this feature you must switch over to the main Wikia skin.
Please select an image to represent your wiki rather than an screenshot of your wiki.
Want to stay up to date on the latest feature releases and news from Fandom?
Click here to follow the Fandom staff blog.
Interested in learning more about community management on Fandom?
Click here to view our community management blog.

Would you like insights on wiki building and usability?
Read through our Best Practices guides for keeping your community growing and healthy.
Want to get real-time access to fellow editors and staff?
Join our Official Discord server for registered editors!
Community content is available under
CC-BY-SA
unless otherwise noted.