Wiki founders and admins spend plenty of time making their wiki's main page an engaging and interesting space. After all, the main page is the first impression your wiki makes on both newcomers and dedicated fans. What can you do to make this space even more functional and pleasing? We recommend adding a Main Page Slider.
The main page slider is a neat way to display amazing images from your wiki and to showcase your pages. And, we've recently implemented an easy tool to help you add a slider; it just takes a bit of initiative and a little bit of photo sizing magic.
Step 1: Find your photos
Choose the pages you want to highlight in the slider. There are 4 slider spaces to fill, so pick your 4 favorite pages. After you've decided, choose a photo for each article. Pick photos that are on large side so you can easily crop them down to the correct size without losing quality.
Step 2: Crop your photos
Now that you've chosen your photos, it's time to make them the right size. The slider only allows you to upload photos that are 673px x 410px. It's unlikely that the images you chose are going to be the exact right size so you'll need to crop them down. Cropping is easier than you might think, and there are free tools on both Mac and PC that help you do so.
Cropping your photos on a Mac
Save the photo to your computer. Open the photo with the Preview application. From the "Tools" menu at the top of the screen scroll down and select "Adjust Size". Now you'll see a box that allows you to change the dimensions of your photo. Using the dropdown next to Width and Height change the measurement from "inches" to "pixels". Uncheck the box that says "Scale proportionally". Change the Width field to 673, then change the Height field to 410. Click "OK". Your photo is now the perfect size for the slider. Be sure to go to "File" and "Save As" to save your newly cropped photo in the 673px x 410px size.
Cropping your photos on a PC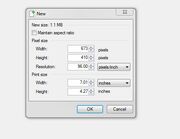 Save the photo to your computer. Open the Paint application and go to "File". Scroll down to select "New". Paint will open a box that allows you to enter the dimensions, enter 673 for the Width field, and 410 for the Height field. Click "OK." Now you'll see a canvas that is just the right size. Open the folder where you've saved your photo and drag the photo onto your canvas. You can also copy the photo and paste it onto the canvas. If it doesn't fill out the entire canvas, hold down the Shift key and drag the corner of your photo with your mouse to make it the full size of your canvas. If the photo fills out more than the canvas, put your mouse over the photo and click and hold to drag the image around until the canvas shows you the portion of the photo you want to be visible. Go to "File" and "Save As" to save your photo.
Step 3: Create the slider on your main page
Head over to your wiki's main page and click on the edit button. Resist the temptation to go into source mode -- you can do all of this using the Rich Text Editor. Click on the multiple photo button and choose "Create main page slider".
You can choose from a horizontal orientation or a vertical orientation for the slider thumbnails. Think about what will work best for your wiki's main page aesthetic and go with it; you can always modify it later. Upload your freshly cropped photos, label them, and link each one to the corresponding page. Click finish and voilà! Your main page has an aesthetically pleasing and useful slideshow.
Once you've created the slideshow you can always choose to modify it by Editing your main page and hovering over the top right hand corner of the slider. Click on modify to make changes.
The main page slider is a great addition to any wiki, try it out on yours today!
Want to stay up to date on the latest feature releases and news from Fandom?
Click here to follow the Fandom staff blog.
Interested in learning more about community management on Fandom?
Click here to view our community management blog.

Would you like insights on wiki building and usability?
Read through our Best Practices guides for keeping your community growing and healthy.
Want to get real-time access to fellow editors and staff?
Join our Official Discord server for registered editors!
Community content is available under
CC-BY-SA
unless otherwise noted.