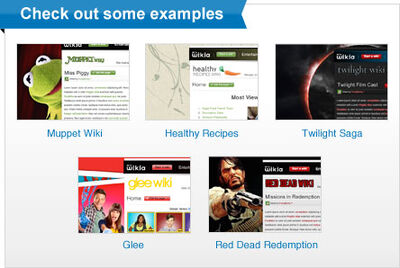 Up until now we've been giving you a few "sneak peeks" and screenshots of the new Wikia, but we've reached the moment you've all been waiting for -- a chance to experience the new look for yourself!
Introducing the new Wikia in public beta, now live on Glee, Twilight, Red Dead Wiki, Muppet Wiki, and Healthy Recipes.
You can now explore a working version of the new look on five totally different wikis. We are very enthusiastic for the community to see the new Wikia on a living, breathing wiki and we hope you are just as excited to test it out! If you have an existing Wikia account you'll need to login and go to Preferences -> Skin and check "The new look" in order to see the beta wikis with the new design. This will not affect how you view other non-beta wikis.
As this is a new design, it may take a few minutes to discover the location of your favorite links, but we promise they're only a click away. Please remember that this is still in beta -- so there may be some tweaks made in the future. If you find a technical issue, please report it by using the green feedback icon at the top left of the page or through Special:Contact.
Also keep in mind that these five wikis are real wikis, so please be respectful in your contributions there. If you have feedback about the new look put your comments on this post -- we'll be reading and responding here. Use the Community Test Wiki if you just want to just play around with the new look.
This public beta is for everyone to view, and our private beta and forum will continue through this period, too. We had a great response to our call for beta testers and will be able to include everyone who applied and responded to our first email - over 475 users!
We know you'll have lots of questions -- so we've created a comprehensive resource that covers everything to do with the new look. Go to http://www.wikia.com/go to view resources like FAQs, best transition practices for admins, and a map of the redesign to help you get accustomed to the new Wikia. We'll be adding to these resources over time, so leave us a note on the talk page if you don't see your question answered.
Enough from us -- head over to Glee, Twilight, Red Dead Redemption, Muppet Wiki, or Healthy Recipes to see it in action. Or, stick around here -- our very own Community Central is on the public beta, too.
Want to stay up to date on the latest feature releases and news from Fandom?
Click here to follow the Fandom staff blog.
Interested in learning more about community management on Fandom?
Click here to view our community management blog.

Would you like insights on wiki building and usability?
Read through our Best Practices guides for keeping your community growing and healthy.
Want to get real-time access to fellow editors and staff?
Join our Official Discord server for registered editors!
Community content is available under
CC-BY-SA
unless otherwise noted.