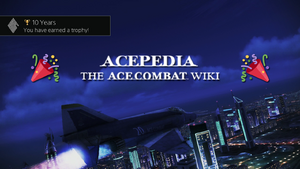 It's Acepedia's 10th anniversary today!! Ten years ago, our founder made the first edit on the wiki, and since then we've grown to become the best and largest Ace Combat encyclopedia on the internet!
I thought today, of all days, would be perfect to make a blog post on Community Central to promote the wiki and introduce you guys to it :D
What is Ace Combat?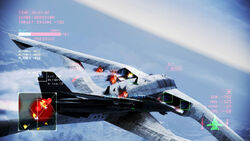 Ace Combat is a arcade flight action series. In most cases, the games see you taking control of a varied selection of aircraft as you try to turn the tide of a war. Most of the games take place in an alternate universe known as Strangereal, with different countries and landmasses than ours. The games are also very well-known for their fictional aircraft designs, rich story-telling, and massive superweapon battles as pictured on the left.
If you were big on the PlayStation 2, you may have come across the series. Fans like to refer to Ace Combat 04: Shattered Skies, Ace Combat 5: The Unsung War, and Ace Combat Zero: The Belkan War as the "PS2 Holy Trilogy". They were hugely successful, with Ace Combat 04 selling over 2 million copies.
Today, the series continues 21 years after its first game release. Ace Combat Infinity, a free-to-play game involving some elements from the past games mixed in with our real world, is still available to play on PlayStation 3. Ace Combat 7, the first Strangereal game in a decade, was revealed a few months ago for PlayStation 4, and we're hoping to get more details next month at Tokyo Game Show. We're currently waiting with bated breath for all of the pages we'll need to edit for AC7. :P
How can I help?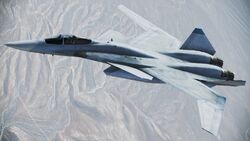 If you're big on the Ace Combat series, we could really use your help. Some of our articles, especially those on older games, need to be updated to modern standards on the rest of our articles. In particular need are the mission articles for PS1 games. There may also still be lingering fanfiction from our early days, which we're trying to make sure is gone for good.
But even if you've never heard of Ace Combat, we could totally use your help as well. Grammar and spelling errors are all over the wiki (like any other), and some of our projects such as hunting down duplicate images or consolidating some of our articles don't require any experience in playing the games. I know there are some awesome editors here, so if anyone is looking for a wiki to help become perfect, Acepedia is always in need!
Thank you!
I was so lucky to be able to attend Community Connect 2016 last week in San Francisco (and got called out as the Ace Combat guy :P), and without Wikia I don't know if we would even have such an expansive Ace Combat encyclopedia today. I know Community Central gets a lot of folks from a lot of different places, so I totally expect to hear some of their venom thrown at me, but from the Ace Combat fans, thank you to Wikia for everything you do to keep the ship running as best as it can!