You may have noticed a lot more videos popping up around Wikia lately (such as these awesome videos on halo). We have been working hard to partner with professional producers in order to offer your community relevant video on a variety of topics. Why video? Video is an exciting way to chronicle and curate around topics you love. It adds a new dimension to your storytelling and documentation that complements the text and images currently on wikis.
However, when you showcase videos found randomly on the web there is a risk of it being copyrighted material which can be taken down at any time. When this happens, it causes broken video links on your wiki. We've heard your frustration around this and are offering you legitimately licensed video from a growing Wikia Video Library.
What kind of video content is Wikia making available?
Most simply - we have access to a growing library of legally licensed videos! How is this possible? We have partnered with video content providers such as IGN and Screenplay. And we're working on more. Videos in the Wikia Video Library are licensed, high quality and will always be available for viewing.
Where can I find this licensed video content?
All of our licensed content is available for viewing and embedding on your wiki from our video wiki You can search there for a video by entering a search term or browsing the category list. Once you find a video you like, just take the url with you and share with your community.
How do you add videos to your wiki?
There are a couple of ways for you to integrate videos into your wiki - embed them in articles using the video embed tool or use our new Related Videos module.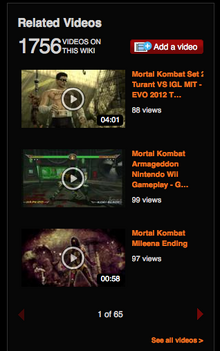 Embedding a video is when you add a video directly to a wiki page using our video embed tool (found in the Wikia editor). Already many communities are doing this and proving that videos can help increase visitor engagement. A recent test on the Barney wiki includes more than 30 videos being embedded in articles. They found that on average visitors were four times more likely to watch an article-embedded video than they were to watch a video that was placed elsewhere on the wiki.
How do I find videos?
We know that you might not always find the perfect video to embed on a page and searching for content can be time consuming. In this situation, we suggest trying out the Related Videos module. It's a great way to get started with videos on your wikis. The Related Videos module is located in the right rail, and contains videos that relate to your wiki as a whole, not just a specific article. This module is editable, allowing your community to easily add videos (and gives admins the ability to remove them). We believe this module will help you and your wiki visitors discover content that is on-topic and relevant to your wiki.
Only select wikis have this module right now but we will be rolling this out to more wikis soon. Let us know in the comments below if your wiki is interested in joining the beta test of this feature.
What's next?
This is just the start of our commitment to video on Wikia. We are actively in discussion with other video content providers to gain access to even more videos. We are also deep in product development to improve both the viewing and contribution experience for video. If you have specific content you are interested in, or feature requests, please share them below.
Bottom Line: When you add videos to your wiki, you are introducing another level of engagement with your visitors and a popular form of content that will also help search engine awareness. We encourage you give video a try on your wiki, and feel free to post questions below!
Want to stay up to date on the latest feature releases and news from Fandom?
Click here to follow the Fandom staff blog.
Interested in learning more about community management on Fandom?
Click here to view our community management blog.

Would you like insights on wiki building and usability?
Read through our Best Practices guides for keeping your community growing and healthy.
Want to get real-time access to fellow editors and staff?
Join our Official Discord server for registered editors!
Community content is available under
CC-BY-SA
unless otherwise noted.