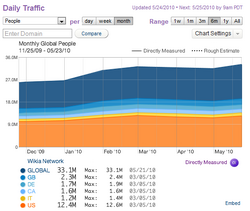 Hi All -

It's been a busy winter and spring at Wikia, so we wanted to recap some of the changes as well as give you a sneak peak at what's on the horizon. Since our last update, the Wikia community has grown to over 2 million registered users and more than 44,000 wikis have been created since December! We have been strongly focused on attracting new users and increasing the diversity of the community, so many new features are specifically geared towards helping new users start wikis and participate in others.
To stay up-to-date with the latest announcements, you can follow the staff blog and visit our community forum.
New features
Our latest products for new founders help them expand their content and membership. For new users, we created some cool new tools for improving contributions, navigation and participation including:
Specialized Q&A answers: You can now create your own topic-specific Answers site as a companion to an existing wiki on the same subject or as a stand alone Answers wiki. Would this make sense for your wiki? We've seen very impressive answers wikis such as Spanish Pokemon Answers, Wikianswers Anime and Harry Potter Answers.
Rich Text Editor: Based on your feedback, we overhauled the editor with a new, faster core and rewrote the interface for increased reliability and even better editing. If you've been sticking to wikitext, now might be the time to make the switch!
Followed Pages: We built on the popular watchlist system to create followed pages, helping you share and promote content. We rolled out a new public user box, showcasing your favorite pages, as well as a new Special:following. We also added the ability to follow blogs and categories, so you can better stay up-to-date with all the changes on your wiki.
Server upgrades: We've been growing, so we increased our server memory space by 300% and our cache space by 600% to make sure we are as fast as possible. This, along with an upgrade to the hardware at our Iowa facility and new Varnish cache machines, provides faster pageloads and editing. Applause for the techs!
Photo Galleries: It's now easy to format groups of photos and create a cleaner look for your wiki. Check out how cool it looks on pages that feature multiple characters or images such as the Grover Books page on Muppet Wiki.
New Skin Themes: In late March we released six new themes. Of course, Obsession has been the most popular choice. All of the options can be found in your user preferences.
Last but not least, we worked hard to improve the speed of the Monaco skin, and revamped our homepage and hubs.
On the horizon
More giveaways and contests: We've been giving away blood! Enter the True Blood premiere party contest to get some. You'll see many more great contests and giveaways in the coming months.
Achievements: New badges are coming for those who edit pages, add pictures and write blog posts. There's also a special badge showing how many days in a row you've contributed to the wiki! A beta version of this feature is being tested on Sonny with a Chance Wiki, Vampire Diaries Wiki and Iron Man Wiki, with a wider rollout planned for late June.
Facebook Connect: Integration with Facebook Connect is currently being tested. This allows you to use your Facebook account to register and sign in to Wikia. If you head to Glee or Farmville and click Create Account, you'll notice that you have the option of using Facebook to sign up or log in. It's not possible to integrate existing accounts yet, but that's coming soon.
Server enhancements: We are beefing up our older database clusters for faster performance as well as adding an additional cluster to our system. We are also working on improvements in how we store files and old revisions of pages. What this means is a faster site!
Image Sharing: We are working on new ways to share and use images, including expanded photo galleries and slideshows. Suggestions are welcome!
Ad-free wikis: We have just begun a trial program, where qualifying wikis can pay $19.95 a month to remove advertisements. To learn if your wiki qualifies, please visit our Ad free wiki page.
Remember, to stay up-to-date with the latest announcements, you can follow the staff blog and visit our community forum.
Want to stay up to date on the latest feature releases and news from Fandom?
Click here to follow the Fandom staff blog.
Interested in learning more about community management on Fandom?
Click here to view our community management blog.

Would you like insights on wiki building and usability?
Read through our Best Practices guides for keeping your community growing and healthy.
Want to get real-time access to fellow editors and staff?
Join our Official Discord server for registered editors!
Community content is available under
CC-BY-SA
unless otherwise noted.