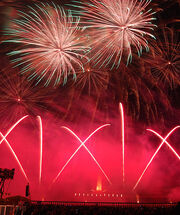 As the year comes to a close, it's a great time to reflect on all the accomplishments and growth of your wiki. We have had a busy year here on Community Central, and in order to acknowledge all of the great happenings across Wikia, we're holding a Community Contest with the theme:
What made your wiki great in 2010?
Please tell us below, in 250 words or less, why during the year 2010 your wiki was great. Did you grow your number of editors, add a bunch of new pages, get more organized, or just roll your sleeves up and get started? Wikis of all topics and sizes are welcome to participate. Please provide examples where relevant.
The winning wiki will be featured on the main page of Wikia and awarded free design time from our designers, with the option to receive a new theme, wordmark, main page, templates or a design request of your choosing. Two runners-up will also win custom community spotlights.
The contest is open until December 31st, and the winning wiki will be chosen by our own celebrity judge Jimmy Wales during the first week of January. We look forward to reading all the entries!
Please remember to provide a link to the wiki you are entering in the contest!
Want to stay up to date on the latest feature releases and news from Fandom?
Click here to follow the Fandom staff blog.
Interested in learning more about community management on Fandom?
Click here to view our community management blog.

Would you like insights on wiki building and usability?
Read through our Best Practices guides for keeping your community growing and healthy.
Want to get real-time access to fellow editors and staff?
Join our Official Discord server for registered editors!