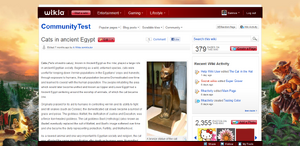 If you haven't heard yet, we've been very busy working on a fresh new look for Wikia. We've given previews in several forms, including design screenshots and a few live beta wikis. But now, all logged-in users can experience the new design on any part of Wikia. Simply visit your preferences, select the "skin" tab and choose "New Wikia Look." Give it a try -- you can switch back and forth between the new look and Monaco until November 3rd.
We're also introducing the new Theme Designer, which we think is one of the coolest things about the new look. Theme Designer allows admins to quickly and easily customize the look and feel of their wiki by selecting colors, uploading background images, and creating custom wordmarks.
You can access Theme Designer from your admin My Tools menu. It will appear at the top of the page above a full page preview pane and will update automatically as you change elements. Jump in and start playing with the Theme Designer -- it's a great way to familiarize yourself with the new look and to get a better idea of how great your wiki can look in this new skin. Any logged in user can experiment here with the theme designer.
Admins! The next two weeks is your time to get your wiki ready for everyone to see it in the new look on October 20th. So start trying out some of the new themes and experiment with different color choices and background images.
While most wikis should not see any issues with the new look, now is a good time to check. Wikis with complex JavaScript or CSS should look more closely. And if you come across any stray bugs, please let us know
We're working on updating the help wiki and have added some new pages specifically for the new look. If you are looking for more tips on tricking out your wiki we've started a forum thread for you to ask for help or offer it to others.
So check out the new look on your wiki, play around with the theme designer and let us know if we can help you in any way.
Want to stay up to date on the latest feature releases and news from Fandom?
Click here to follow the Fandom staff blog.
Interested in learning more about community management on Fandom?
Click here to view our community management blog.

Would you like insights on wiki building and usability?
Read through our Best Practices guides for keeping your community growing and healthy.
Want to get real-time access to fellow editors and staff?
Join our Official Discord server for registered editors!