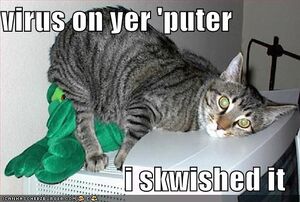 Here at Wikia we eat, sleep and breathe the internet. From wikis to lolcats, we run the gamut of internet browsing and have a lot of experience when it comes to identifying and preventing malware from mucking up your computer. "Malware" is short for "malicious software", a program built to enter your computer and cause problems. We're calling out this nasty little menace to make sure you know the best tools for avoiding malware anywhere on the internet.
Stay up to date
Make sure your internet browser, viewers, and anti-virus software are completely updated. We know it can be a hassle to download the latest Internet Explorer or Flash Player updates, but they contain important security improvements that specifically target and address the latest known malware.
Let us know
If you're browsing on Wikia and see a warning pop up, be sure to let us know at Special:Contact. If possible make sure to include the URL of the wiki and page you were on, the type of message you got, as well as the type of internet browser and anti-virus software you use. Adding a screenshot of the message you see is a super helpful bonus!
We'll work hard on our end, too
This past weekend we received multiple user reports of malware on Wikia. Thanks to awesome reporting, we were able to quickly and effectively remove the ads. Our adverts come from several different providers. We are careful about who we work with and our stand on malware is firm - we hate it and know you do too, so we're dedicated to staying proactive by continually reviewing and updating our anti-malware system and remaining vigilant.
As a team we can all do our part to ensure that malware sightings on Wikia are rare. We appreciate your help in letting us know about any you might see, and hope you're keeping your computer safe by updating your software and wearing the latest anti-malware armor.
Want to stay up to date on the latest feature releases and news from Fandom?
Click here to follow the Fandom staff blog.
Interested in learning more about community management on Fandom?
Click here to view our community management blog.

Would you like insights on wiki building and usability?
Read through our Best Practices guides for keeping your community growing and healthy.
Want to get real-time access to fellow editors and staff?
Join our Official Discord server for registered editors!
Community content is available under
CC-BY-SA
unless otherwise noted.