Greetings Wikians! I'm very excited to announce a new feature today - Curated Main Pages on mobile devices.
For most communities the main page is its single most viewed page. Four out of the top five pages on Wikia are main pages, in fact, and that makes sense — a search for "Star Wars wiki" is very likely to return the main page as the first result.
Main pages on desktop are typically a large collection of content, galleries, templates, and design elements, representing each community very well. Unfortunately the styling that makes them look so distinct on desktop often results in a less-than-stellar mobile experience. Given that more than half of our users now access Wikia on something other than desktop, this tool aims to construct a high-quality experience on their device, while ensuring that they retain access to the breadth and depth of content available on that community.
The wikias that have Community Apps know the drill here: through the use of a lightweight content management system (CMS) you can select the most important articles, videos, blogs, or categories that people should see. The experience has been so great on apps that we wanted to see if it would work for mobile web as well. To that end we ran a few tests and compared the new experience to the old mobile main page experience. It turns out that users really, really liked the test. Based on two week-long tests, we saw a 12-16% spike in pages per session and an 18-21% decrease in bounce rate. For a small, quick-and-dirty test, that's a significant uptick in engagement.
We then turned on the experience for more communities with apps, and the numbers were just as impressive as our initial tests. That's when we thought to bring this to all communities on mobile — even if you don't currently have a mobile app.
You can see the new experience in action on many communities already. Go check out Wookieepedia or Game of Thrones Wiki on your phone right now. For those of you who prefer screenshots:
As for the CMS, it will be broken out into the following sections: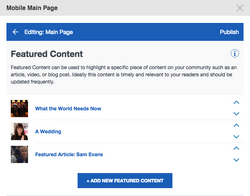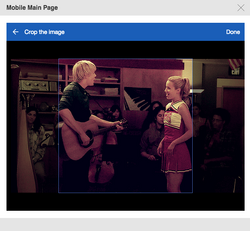 Featured Content

This section is great for highlighting an individual piece of content such as an article or blog. It's great for keeping readers up to date on what is happening with your community or the fandom you cover

Featured Categories

Categories are a great way to give users a high-level overview of content. Think of it like providing an easy to use visual navigation through potentially tens of thousands of articles

Optional Categories

While Featured Categories allow you to group multiple categories together, sometimes that doesn't always make sense. Optional Categories allow you to just display an individual category on its own.
In addition to the content you have curated, the new main pages will also dynamically pull in popular articles and videos so casual users can get a sense of what's hot on your wikia.
A community's admins can access the tool from a button on the desktop or mobile main page. Each element will ask for an image that can be uploaded from your desktop/phone or selected from your community's existing photos. You will have the option to crop the image so that it lines up perfectly with the end user experience. See Help:Curated Main Page for more details.
We think there is still more room to improve so we'd like to hear from you. Are there any features that you'd like to see developed? Do you want a welcome message feature? Do you want more manual control over the curated section? Is there an important use case on the desktop that isn't currently supported on mobile? Let us know.
Want to stay up to date on the latest feature releases and news from Fandom?
Click here to follow the Fandom staff blog.
Interested in learning more about community management on Fandom?
Click here to view our community management blog.

Would you like insights on wiki building and usability?
Read through our Best Practices guides for keeping your community growing and healthy.
Want to get real-time access to fellow editors and staff?
Join our Official Discord server for registered editors!