Here are the latest technical updates on Fandom. Keep in mind that our system updates happen every Tuesday and Thursday - today's notes are for tomorrow's site update. Also note that we change hundreds of tiny details every week, so these are just the highlights.
New Features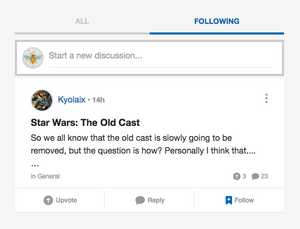 'Following' functionality will be added to the Discussions web interface.

The new 'Following' list becomes one of the two primary lists that a user is presented with. This list of followed posts is sorted by date of most recent reply.
The main post list (now labeled 'All') can still be sorted by 'Latest' or 'Trending', with those options moved to the left side of the page.
There will now be separate email notification preferences for upvotes and replies to followed posts.
The option to share a post is moved to the 'More' menu. Fun fact: the 'More' menu's icon, three vertical dots, is referred to as the "kebab" by designers.
Following will be available for Discussions within Community Apps in the future. We will announce the specific dates and release versions when that information is available.
Major Bug Fixes
Link suggestion popups will no longer be incorrectly hidden behind the edit area in various situations, such as on Message Wall, Forum and article comments.
Other Notable Changes
Recent mobile app updates are listed on Apps Technical Updates, and detailed site CSS-related updates can be found at http://report.wikia.net
As a result of recent research and A/B testing, we will be switching the 'On the Wiki' tab to be the furthest right navigation bar tab for anonymous users (and not selected by default). No changes will occur for logged in users. We'll be monitoring this change closely, to keep an eye on the effects.
We will tweak pages the new 'Share' button is shown on, limiting it to content namespaces only.
Questions? Comments? Feel free to leave them below. And if you have additional bugs to report, please send them to us via Special:Contact.
Want to be notified about technical updates when they are posted? Then click here to follow this blog.
Community content is available under
CC-BY-SA
unless otherwise noted.