Hey there, wonderful Wikians!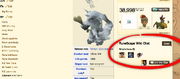 Just a couple of seconds ago I flipped the switch to turn on a feature for Community Central we've been working on: Chat. It's been a much-requested feature for a while now and many wikis have created their own off-site chats, so with this project we're hoping to make it easier for our wiki communities to talk to others about the wikis.
We've turned chat on a handful of wikis already, including Brink Wiki, The Twilight Saga Wiki, and Total Drama Island Wiki. If you're looking to just test the chat, use the version on this wiki. You can find the "Join Chat" button under the "Add a Photo" tool on the right hand side of any article page, or you can make your way to Special:Chat.
Right now, the chat is still in the beta stage. There will be bugs and oddities, so we're glad to have you as part of our team to help find them as we iron them out. We still have a bunch of exciting features in the pipeline.
I know you awesomely creative Wikians will come up with cool uses for Chat. :) So take a look, have some fun, and let us know what you think in the comments below. Thanks!
-- Trevor (Ohmyn0)
---
Addendum 4/19 We've been receiving lots of inquiries asking if Chat can be turned on for specific wikis. At the moment, we're only turning it on by a case-by-case basis to test it. Thanks for your enthusiasm!
Addendum 4/21 As we continue to push out fixes, please try and include approximate times when you see bugs or issues. Keep the great feedback coming!
Addendum 4/25 We've revamped the Chat page to be a central hub for all chat related news. Also, we've created a place to request to be a test wiki for chat.
Community content is available under
CC-BY-SA
unless otherwise noted.