Wikia has a large collection of wikis on all topics, and it's hard to capture the audience you want to find. Creating affiliates to similar projects that fall under the same category or type of content makes it easier to draw more users who may find your content interesting. Crafting a small section on a Home Page sidebar, or as a footer at the bottom of the page, will help each community grow and flourish.
Whether you have a wiki about a unique sport, an epic sci-fi movie or a new mobile game (more about games later!) you will be able to find wikis similar and try to get on board and create or join an affiliation!
How does this work in Wikia?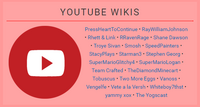 While it isn't something built into Wikia, several overarching wikis like the
YouTube Wiki
, the
Horror Film Wiki
and the
Disney Wiki
have custom global footers that link to many wikis that fall under the umbrella of each. It is often a case of contacting the wiki's administrators and notifying them of an addition of your wiki – and they would be happy to add you to their footers.

For Gaming wikis, a separate Wikia Games Footer program was set up late 2015 by the Gaming Hub to help improve cross gaming wiki links. If a wiki has a fair amount of content and is well organised, it may be eligible for inclusion in a footer of your gaming genre – you can read more and request that on
the request page here
.
This initiative is also available for movie footers and television footers, and it's a great as a goal to build up to be on a footer if your wiki is just beginning.
Create your own affiliations!
If your wiki is niche or doesn't fit in any genre, you can always create your own global footer by creating a template in Community Central, gathering support from a couple of administrators in other wikis and collecting wiki names into a list.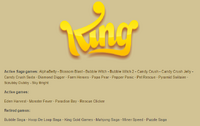 For example, wikis of the games published by the gaming company King have their own King template that links to all their active and retired games. Similarly, the Anime and Manga Hub created the Animanga Footer that is always up to date with this season's anime and manga releases.
If you don't have this expertise or as many wikis, simply linking each wiki's wordmarks is always an alternative and will still help out new related wikis. And to get some inspiration, you can take a look at some global footers at Category:Footers.
Community content is available under
CC-BY-SA
unless otherwise noted.