Hey again! Here are a few tips for you that will ensure you are able to adopt the inactive wiki you have been working on.
5 Tips for Adopting a Wiki
1. Check yourself!
1 page
of useful, related content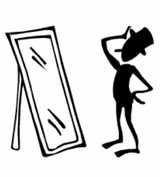 There's a few requirements for you to check, to make sure your adoption goes through without hassle.
Make sure you have not adopted within the last month, that you're not currently blocked on another wiki in Wikia. Also check that you have contributed for at least a week and that you've created one useful page - the more the better, to show you are dedicated to the wiki.
2. Tell your community
Make sure you write up a blog post, forum post or some other thread on the Forums at your Wiki. It should be a short and sweet notice that you want to adopt the wiki, and ask the active community what they think about the adoption.
Active members are those who have logged in the last month or so. You can check who they are in Special:ListUsers in your wiki.
When you adopt, be sure to copy paste the link to the post or thread you have started - Merrystar will check it for any support or rejections. Even if there are no responses, Staff will take it into account that you're willing to talk to the editors, one clear sign you're a good admin!
3. Check admin activity
Make sure your wiki doesn't have active admins - that is, admins that have edited in the last 60 days. You can see a full list at http://community.wikia.com/wiki/Special:ListAdmins (change the wiki name to the one you want to adopt!)
If they are around, have logged in recently or could have email set up to send reminders, try sending a message to them asking whether you can be promoted or not. They may come back and help you out, and you'll skip the adoption process!
If they don't respond, but they have edited within 60 days, you unfortunately can't adopt. However, admin rights aren't needed for you to improve the wiki, so keep at those edits.
4. Submit a clear request
Provide all the details you have collected into the form at Adoption:Requests. Make sure you include any links in the Additional Information section: including links to the discussion thread, or any posts that you made in your attempts to contact the admins! It makes Merrystar's job a lot easier, and verifies that you have tried to talk to the community and existing admins.
5. Wait, be patient!
Adoptions take 7 to 10 days to process. During that time, make sure you edit daily, or at least once every two days. This will confirm that you are active in the wiki, and builds trust within the community. The adoption requests are first in first out - so, you can check your position at Adoption:Requests. If you're near the top, you're request will be looked at soon.
During this time, some users may respond with an 'Unofficial response' on your Adoption page - follow their tips and directions, and thank them for helping you along.
Once a Staff member gives you your rights, hurrah! You're an admin and bureaucrat. If your request is put on hold, don't fear - follow the instuctions Staff provided, which may be to keep editing. If you have done so for over a week and they haven't responded again, post a message onto their Message Wall.
Good luck with your adoptions!
Community content is available under
CC-BY-SA
unless otherwise noted.