Hello, my username is NinjaoftheREDclan, or sometimes Diamondheader, or Diamond, today, i'm going to introduce to a new wiki i made last month, me and a group of other editors been working on it for almost two months, it's still currently developing, but it's getting more advanced. About the wiki. Alternative Countries Wiki is an online wiki where you can share your geographic ideas, this includes countries,continents,states,territories (posessions), and cities, not only that, you can share ideas of countries in an alternative universe! we also have our own discord server, which is somewhat new, we also have help pages to help you on the wiki, there is also extra tags, such as "New Editor" "Inactive "New Account", etc, and some colored tags as well!
Link (i recommend you to read the features first)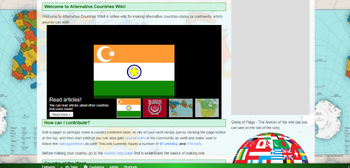 Features:
Country of the Week - What does it do?: The Country of the Week feature is a feature that is suppose to promote someone's country, but first, the person needs to apply for COTW, after that, the applied country will be in a poll, the country with the most votes will win and be shown on the main page for an entire week!
Special user templates - We have special user templates! such as templates for Bureaucrat, Administrator, Content Moderator, Discussion Moderator, and Rollback, we also have a template for blocked users, the template will show on their profile picture saying that they're blocked. Colored usernames - Once you're a content moderator and above! you can have your own colored username! of any color you can pick! Wiki Editor plus and Mega-Wiki Editor - Oh, did i mention that you can have two special templates on your profile page? once you have 400+ edits, you will get the "Wiki Editor plus" template added to your profile page, and if you reach 500+ edits, you will get the Mega-Wiki Editor template added to your profile page (note: getting these templates are optional) Colored username tags - Once you gain Content Moderator or rights above, your right tag will be colored, content moderator is orange, administrator is blue, bureaucrat is purple, and Founder is Cyan. WAM (Wiki Activity Monitor) - The Wiki Activity Monitor helps to rate and score Wiki Activity! for a example, a score of 75 would be Active. Categories for countries - Your country can be added to North America, South America, Europe, Africa, Asia, Oceania, and you can also have a country in Antarctica as well! Page templates - There is page templates such as Stub template, unfinished template, and Country of the Week template as well! and there is a "Epic Article" template, which is added to pages with a lot of hard work and creativity! (Epic Article template cannot be added to stubs)
We have 900+ edits, trying to get to 1,000+ edits!
We also have some active administrators, and some editors, but however, some editors are currently inactive, but you can join the community and help it!
If you want to join, you can click the link below! - NinjaoftheREDclan
Community content is available under
CC-BY-SA
unless otherwise noted.