Hello Wikians!
Here at Wikia, we're always looking for fun new ways to get to know our communities better, so we created a questionnaire to learn more about what you love and how we can create the best Wikia experience possible.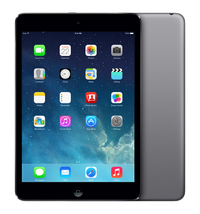 Where do you go to find news about your favorite TV show? How do you tell your friends about the latest new game? Answer a few questions to complete the survey and you'll be entered to win an iPad Mini!
Please note that if you state that you are under 13 years old or over 55 years old, the survey will end. It will also end if you enter all 0's for the number of hours you spend watching TV, watching movies, and playing video games, or if you say you spend $0 on movies, TV, and video games. The survey is intended for those between the ages of 14 and 54, and who watch and spend money on TV, movies, and video games."
Want to stay up to date on the latest feature releases and news from Fandom?
Click here to follow the Fandom staff blog.
Interested in learning more about community management on Fandom?
Click here to view our community management blog.

Would you like insights on wiki building and usability?
Read through our Best Practices guides for keeping your community growing and healthy.
Want to get real-time access to fellow editors and staff?
Join our Official Discord server for registered editors!
Community content is available under
CC-BY-SA
unless otherwise noted.