Hey gang!
With December almost finished and Fandom's holiday break coming up, it's time for us to look back at a year that was rather busy, with lots of evolution and exploration for Fandom, the platform, and you - our awesome editors!
This was 2021.
A whole new world
The year kicked off with us in the process of finishing up development and rollout of the Unified Community Platform, Fandom's largest project ever, bringing Fandom and Gamepedia wikis together on a single new codebase running a modern version of MediaWiki, with so many basic updates that we literally couldn't catalogue all of them. After moving over 300 thousand wikis with millions of pages to the new platform, we had our foundation to build the future. The first step was the Unified Consumer Experience project, bringing new designs to both mobile and desktop with FandomMobile and FandomDesktop.
We could not have accomplished these projects without you and your actionable feedback since we announced UCP in 2019. The Community team collected thousands and thousands of feedback points from readers, editors, admins, and volunteers to help shape the direction of both the new platform and its new design. The most dramatic impact came in the form of the sidebar hide toggle, a direct result of actionable feedback from Community Council, design prototype session participants, Community Connect attendees, and the Gamepedia Fellowship.
A community celebration
While we tackled enormous projects this year, it wasn't all development work for our teams. We had a lot of fun too, mostly celebrating the incredible communities on the Fandom platform! We had TWO Community Connects, bringing our top admins and editors safely together with staff via Zoom to unveil new projects, talk about how different departments work, directly gather feedback, chat so much that we broke Zoom's cache, and jam out to an epic soundtrack.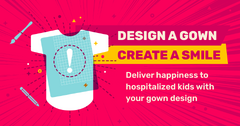 We cheered on the accomplishments of our Editors of the Month, highlighted cool things wiki teams are doing with Community Spotlight, called out all the neatest data trends with Data Is Fun, and we designed a hospital gown for sick kids!
We also stepped up our celebration of diversity in both entertainment and in our communities this year, with dedicated programs celebrating Pride, Hispanic Heritage Month, and Native American Heritage Month. Pride and Hispanic Heritage Month both had special Twitch events with community contributors talking about their personal experiences with representation in media and within their wiki communities.
Putting the new platform through its paces
One of the major benefits of the UCP and UCX projects was getting the platform positioned for us to spend less time on maintenance and backporting security updates and more time on developing new features and enhancements to evolve your user experience. Since the release of FandomDesktop, we have just begun to explore what is possible!
We launched a test of a new Maps feature that allows editors to build great custom maps for the imagined worlds they cover. We worked closely with a group of wiki admins and editors to iterate quickly on new features, understand creator pain points, and resolve outstanding issues. Look for more on this feature early next year!
We began the process of retiring the Featured Video program entirely. While it was a significant boon for Fandom and enabled us to do things like update MediaWiki, expand the Community team, and provide more editor support, we were not able to keep the quality we wanted up at the scale we needed. To that end, we are replacing the content with The Loop and Interactive Video, all produced by our award-winning content team. Their work is fantastic and will give us the quality you deserve at scale we can work with, a true best of both worlds.
We brought Theme Designer customization to Discussions, making the reference and social sections of your communities more unified in their theming. This also marked the first time that Fandom has had mobile Theme Designer support, with the design choices carrying over to FandomMobile in Discussions. We're looking very closely at how that performs, so stay tuned.
We brought the best of both worlds to each other, taking features Gamepedia had and putting them on Fandom, and vice versa. Historically Gamepedia Wikis now enjoy the Announcements tool, while Fandom editors got access to the EmbedVideo extension.
And then we dove deeper into what was possible with dozens of experiments designed to see what the future of engagement, discovery, and editing could look like for you. We are very pleased with the result and they've informed some of our development roadmap for 2022.
Welcome to the new Fandom
After the completion of the new FandomDesktop rollout, we had another huge rollout as we unveiled the Fandom brand refresh. A new logo, a new color scheme, a new slogan, and a new homepage were the biggest changes that we launched in August. The "For The Love of Fans" campaign also went live, with opportunities to win unique creations from some of the most popular franchises around, like Star Wars, The Boys, Doom Patrol, Resident Evil, Metroid, Star Trek, and Diablo. This was the first time that we've taken a holistic approach to our brand as a company and we are very proud of how the brand design has evolved as a result of this work.
No in-person? No problem!
Including the two virtual Community Connects, we held over 100 events this year for our editor community! Some were old favorites, like Ask Me Anything and Community Checkpoint, but we also explored a bunch of new event types this year. Let's take a look!
Community Roundtable started as a focused feedback gathering session for particular wiki teams. We'd invite different wikis to join us for an hour or two of direct feedback with Community staff and use that opportunity to take the pulse of what the creator community is feeling. This event has since evolved to focus on particular topics and let editors express their interest in participating. Community Roundtable is held on Discord.
Community Recap is one of our newest event types, a panel discussion with Fandom staff about a particular topic. The first edition focused on the 2+ year effort to unify competing wikis called Project Crossover. It was a lot of fun and we hope to do another one soon.
Watch Parties came to Fandom. The premise is simple. A bunch of editors watching TV shows and anime together, hosted by Mandy or Lucas! So far, we have watched Stranger Things, Loki, JoJo's Bizarre Adventure, and Komi Can't Communicate. Be on the lookout for more Watch Parties!
Game Time showed up in February, a recurring opportunity to play party games with fellow editors and staff on Twitch. Hosted by Tots, you can find Game Time announcements on Discord.
The Downstream was a new event type that tried to extend the virtual Community Connect experience to more folks with Twitch broadcasts featuring presentations from different parts of Fandom, including the social media team, the data insights team, the marketing team, and the design team.
Lucas started a Manga Book Club on Discord that is currently reading and discussing the manga of JoJo's Bizarre Adventure. There are different prompts for sharing and lots of fun to be had for fans of anime and manga.
Look for these and more in 2022!
Safety is paramount
When we reorganized the Community team earlier this year, we created the Community Safety team, also known as Trust & Safety. This team worked with the rest of the Community team as well as our partners in Product, Engineering, Legal, and Marketing to roll out much needed changes to make Fandom a safer place for everyone.
The Wiki Rules & Blocking Policy was rolled out in April, evolving Fandom's long-held stance that admins could block anyone for any reason or no reason at all. The new policy requires that wikis have defined rules which are fair and easily accessible, holds admins to block only according to those rules or global policies set by Fandom staff, and forbids admins to use their position to harass other community members. It also put into place a means for blocked users to appeal their blocks to Fandom staff and get those blocks removed if they were unfair. The policy was a MASSIVE success, thanks to all of you! Wiki teams worked with their communities to make sure they had fair rules and then blocked according to those rules. Block appeals decreased significantly and a number of communities which had been on our radar for abusive admin behavior improved dramatically.
In response to admins and editors asking us for guidance, Fandom put in the work to create our Gender Identity Guidelines with the help of a diverse committee of cross-functional contributors. These guidelines help admins and editors to correctly address how characters and people should be referred to on their wikis in terms of gender identity, pronouns, etc.
The Trust & Safety team took on the continued processes of Image Review and JavaScript Review, working to make sure that visitors to your wikis are safe from Terms of Use violations in these areas. Historically Gamepedia Wikis got added to JavaScript Review this year, unlocking the library of Dev Wiki customizations for easy access in the process.
This team is expanding, with a new Community Manager joining us just last week, and will continue to work on making Fandom a safe place for everyone.
Editors of the Year
The Editor of the Year Award is reserved for the contributor whose full year's work truly went above and beyond. They don't necessarily need to have won an Editor of the Month Award during the calendar year, as this focuses on the totality of their impact over the past year. These editors are the best of the best, the folks who make it a pleasure for Fandom staff to show up to work every day, the people we want y'all to look up to as wiki role models.
Without further ado, your 2021 Editors of the Year…
Gaming - Artemaz from Forgotten Realms
Artemaz has been a prolific contributor to the Forgotten Realms Wiki all year, but really turned up the heat starting in June. For the "Year of Maps" group project he contributed no less than 455 new location articles—almost half of the set goal of 1000—as of this writing, and with his help the goal was reached well before the end of the year. His overall totals topped 1500 new articles and 100 new images.
Esports - Jesto95 from League of Legends Esports
Jesto has been nothing less than a force the past few years on the esports wikis. He has an endless energy for helping people out, whether it's training people in live tournament coverage on Leaguepedia - and pioneering a new tutorial page on the wiki for it, answering questions for editors on the Roller Champions Esports Wiki, or reminding me that I have to announce our editor of the month in our Discord. He helps with every single esports wiki in some capacity, and he helps at every single level.
Which is not to say that Jesto isn't directly involved with editing - he does live updates himself for LCK and LEC and was a key part of identifying bugs when we transitioned to the FandomDesktop skin, agreeing to do his live coverage on an unstable new skin for days in advance of the rollover just so he could identify pain points we needed to address. He also has moved out of his comfort zone, learning to install PyWikiBot and run cache-refreshing scripts as well as running additional standalone Python scripts directly from a Python IDE - including learning some of the language so he can adjust settings as needed.
In addition to this Jesto is a member of the Fandom SOAP taskforce. His hard work and diligence are what help keep the site clean and usable for everyone!
TV/Movies - Guitar652 from Hell's Kitchen
This year marked a milestone for Hell's Kitchen as it entered its 20th season. Guitar652, who has been an active bureaucrat and administrator for several years, has been a driving force on the wiki since his very first edit in 2017. For the first time this year, two seasons of Hell's Kitchen aired, and Guitar was more than ready to go. He was the principal contributor for both of the new seasons that premiered this year, making over 2600 large edits, fleshing out 32 episode articles and 34 contestant articles. His efforts have made the Hell's Kitchen Wiki a true resource for all fans, from the star chefs to the donkeys. Hell's Kitchen Wiki would not be as big as it is today without the hard work and dedication of Guitar, so many thanks for making the wiki the best it can be!
Emerging Interests - Blueway from Kpop
Kpop has been getting bigger and bigger every year, and as a devoted bureaucrat, Blueway has been there to make sure Kpop Wiki is keeping up! Adopting the wiki in 2015, Blueway has worked with the community to transform the wiki into the comprehensive Kpop encyclopedia. Blueway gets involved in all aspects of Kpop Wiki, whether it be editing templates, regularly running a bot for maintenance tasks, or adding to the wiki's already extensive Kpop knowledge base. Blueway also regularly responds to user questions, posts bi-monthly news blogs, and in general - working with wiki team members - makes the wiki very welcoming for users and readers. Thank you Blueway for keeping Kpop Wiki 'just right'!
Anime - Legendary Super Saiyan Fennekin from JJBA and Dragon Ball
Fenn is phenomenal at communicating and a natural leader on the wikis she heads up. The JoJo's Bizarre Adventure and Dragon Ball wikis would not run nearly as smoothly as they do if not for her input. Her efforts on these communities makes her passion for these fandoms clear, and few other users on this platform have done as much to build a genuine community around the media that they're passionate about.
Please join me in congratulating all of our Editors of the Year!
In Closing
2021 was a pivotal year for Fandom. We finished up the largest projects in company history, setting the foundation for expanding the way you engage with your communities. The exploration of these new engagement areas is already underway with experiments run by our Product and Engineering teams in collaboration with Community. We can't wait to show you more in the new year.

Fandom Staff
Will was the Global Communications Lead at Fandom, but no longer works here. Before that, he was the Community Manager for Gamepedia and the Gaming Community Manager for Imzy. Outside of work, he hangs at the beach, explores breweries, plays golf, and lifts big weights for fun.
Want to stay up to date on the latest feature releases and news from Fandom?
Click here to follow the Fandom staff blog.
Interested in learning more about community management on Fandom?
Click here to view our community management blog.

Would you like insights on wiki building and usability?
Read through our Best Practices guides for keeping your community growing and healthy.
Want to get real-time access to fellow editors and staff?
Join our Official Discord server for registered editors!