Hey gang!
Fall has arrived for Fandom offices around the world and we're diving into the busy season of big gaming releases, new TV seasons, and some major blockbuster movies! Let's recap the month that was September 2021…
Social Media as a hot topic
At last month's Community Connect, a number of editors and admins expressed their desire to learn more about managing social media outreach for their wikis. This month, we've had a few new opportunities to engage in that conversation.
At the end of August/beginning of September, we launched a new Social Media channel within the Fandom editor Discord server, encouraging everyone to share their experiences with managing wiki-focused social media content. We've had a lively conversation over the course of the channel's first month, with great tips and tricks shared from wikis like Wookieepedia, Muppets, and Danganronpa. If you haven't joined the server yet, consider this an invitation to do so!
In the second week of the month, we hosted our second episode of The Downstream, our quarterly Twitch broadcast bringing guests from around Fandom to present to our editors about their work. Joey Merkel, who heads up our Social team, joined us and answered questions submitting by top admins about managing a social media presence. More on The Downstream below!
And as I'm writing this, the entire Social team from Fandom has just finished up a group Ask Me Anything session on Discord, fielding questions from editors and admins about social media best practices, sharing account access, dealing with copyright issues, properly asking permission to signal boost fan art, etc. You'll be able to check the chat transcript at any time to benefit from those answers. Join the Discord server and check out the #ask-me-anything channel.
For the Love of Fans
Fandom launched a new campaign promoting great wikis with one-of-a-kind artwork to reward the biggest fans of those properties. From Star Trek to Metroid to Diablo to Star Wars, we've had incredible stuff to give away to honor these big franchises, working with their incredible wiki communities to spread the word. Just one more way to show that everything we do is For The Love of Fans.
The Downstream

As mentioned earlier, we hosted our second episode of The Downstream this month. I was joined by a new cohost, Jenny, and we had some great guests alongside Joey:
Max Spector gave us an inside look at how the new logo came to be, including dozens of explorations that we didn't end up going with
Maggie Owens talked about how her team monitors traffic coming onto the wikis to identify interesting patterns, which help us provide better support for the wiki admins and editors. This monitoring and analysis is also where our monthly Data Is Fun segment comes from!
Stephanie Fried, our Chief Marketing Officer, answered a submitted question about the process for rolling out the new brand refresh and how everything had to come together at the same time in a "big bang" moment.
Adil Ajmal, our Chief Product and Technology Officer, answered a submitted question about lessons learned from the Unified Community Platform and Unified Consumer Experience projects.
John Todd, our Director of Community Experience, answered a submitted question about possibilities for new projects and a submitted question about efforts to encourage new editors to engage with your wikis.
You can watch the episode at any time by visiting this link to the saved broadcast.
Gender Identity Guidelines
As non-binary and transgender representation increased across intellectual properties, some of Fandom's top communities began to ask for advice from Fandom Staff on how to handle written descriptions and social discussions of characters who are non-binary or transgender.
For that reason, this spring, Fandom put together a fifteen-member panel to discuss how we can best guide our communities on the topic of gender identity. This panel was staffed by a diverse set of individuals - including members of the non-binary and transgender communities.
As a result of the discussions amongst the panel, the Fandom's Community Safety team was pleased to release Fandom's Gender Identity Guidelines earlier this month, a guide for our content creators on how to write about transgender and non-binary individuals appropriately and respectfully. You can find it here on Community Central.
Our hope is that your community will find this guide helpful. We encourage you to read it and talk to us directly about open questions or clarifications we can provide to make this document even more useful.
Starlight Design-A-Gown
This month, Fandom teamed up with Starlight Children's Foundation, a non-profit organization with a simple but impactful mission: making hospital stays more comfortable for seriously ill kids. Together, we launched a contest to design the next special hospital gown that Starlight will produce and provide to thousands of children in hospitals across the United States. Starlight's gowns are colorful with awesome artwork, are made of comfortable materials, and cinch along the side, rather than in the back, so kids are delighted in their hospital wear and much more comfortable than they would be in the normal hospital gowns.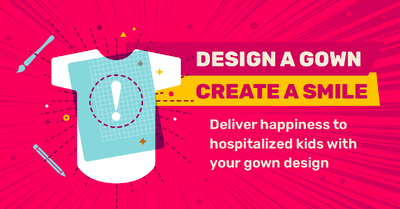 We invited all of our artistically-inclined community members in the United States to submit their own designs for Starlight's next gown. By the time you read this, submissions will likely be closed, as they will be done in a matter of hours. In October, however, I will be inviting EVERYONE on Fandom to vote for their favorite submission amongst our selected finalists. The winning design will be put into production as Starlight's next gown and provide comfort to the kids. As part of this initiative, Fandom committed $50,000 to Starlight to advance their incredible mission, For The Love of Helping Kids.
Hispanic Heritage Month
This month, we kicked off Fandom's celebration of Hispanic Heritage Month with a blog showcasing a selection of our favorite Hispanic shows, movies, and characters in popular media. In addition to this blog, we're using our social media accounts to spread awareness of the month, which runs from September 15th to October 15th, covering a number of anniversaries of independence for Latin American countries. Our colleagues at Fanatical also published a blog of their favorite Hispanic characters in video games. And, finally, we have a special Discord server for celebrating the month and getting involved in the festivities.
Theme Designer Support for Discussions
Last week, we announced that Theme Designer support is coming for Discussions, an answer to a long-standing request from editors and admins that is made possible by the UCX project. The first deployment is slightly delayed, but should be on your wikis next week. We're looking forward to seeing a unified theme across your reference and social content, as well as mobile customization in Discussions - our first foray with Theme Designer on mobile!
Data Is Fun
As I mentioned earlier, all of the trends in the Data Is Fun come from Maggie Owens' Site Analytics team. Her work is truly incredible and gives us amazing insights into trends we never would have noticed otherwise. Let's dig into some of her team's cool finds from September 2021!
Genshin Impact was an early winner in September, as Update 2.1 reinvigorated the player community, sending the pageviews soaring 31% to 15 million in a week and making it the #1 community on Fandom the first week of the month! With the addition of fishing to the game, users flocked to that page with 223 thousand in the week following release. Another big page was Raiden Shogun, whose popularity in game and in cosplay was rewarded with some additional backstory in this update. That's a nice treat for lore fans!
The Wheel of Time wiki jumped quite a bit that first week as well, thanks to the first trailer for Amazon's adaptation of the epic fantasy novel series. Daily pageviews nearly tripled from 41 thousand to 110 thousand with the trailer release. After 21 years of development, with multiple network and production rights changes, people are really excited for Jordan and Sanderson's combined book series to come to life. Be warned that the wiki has a LOT of spoilers, but you can read about the TV series' history here. More on this wiki later on...
The Formula 1 wiki saw a nice bump in traffic as the sport enjoyed a rather interesting September. The world's most widely celebrated motorsport competition has had an infusion of new fans in the United States over the past few years, thanks to Netflix's F1: Drive to Survive documentary series. Our readers are most interested in aspects of the competition which aren't as well covered by the series, which focuses on the interpersonal relationships between the drivers, crew members, management, and owners. Of particular interest? Information about the points system, medical car, and the flag system. These really came into play when overall points contenders Lewis Hamilton and Max Verstappen knocked each other out of the Italian Grand Prix, which resulted in a P1-P2 for my favorites, Daniel Ricciardo and Lando Norris. Based on the success of the documentary, the PGA Tour has inked a deal with Netflix and the same production studio to follow a dozen professional golfers during the 2021-2022 season along the same lines of focus, so maybe we'll have a golf wiki trending sometime in the future?
Our extremely expansive No Man's Sky wiki saw a big bump from the game's latest expansion, Frontiers, this month. As the Interlopers once again jumped into their spaceships to explore Hello Games' 5 year masterpiece, the wiki jumped to average over 1 million pageviews per week. The wiki covers everything from game mechanics, like the new Settlements feature that allows you to run your very own version of Mos Eisley (hopefully with fewer dismemberments over blue milk), to player groups and found planets. It's a really cool wiki.
Did you see the video from Steve Burns, the original host of Blue's Clues, addressing his abrupt departure from the show in 2002? Tons of our readers (and the world, really) were touched by his heartwarming appeal to the audience on the 25th anniversary of the show. The Blue's Clues wiki jumped 60% in daily pageviews to 93 thousand, thanks to that video. It became our #8 TV show wiki as a result of the increased attention, beating out shows with current releases like the Chicago universe on NBC, The Bachelor, Shameless, and Good Girls. Fans of Blue's Clues are avid readers of the Disney wiki, 3 times more likely to visit that wiki than the average reader.
Star Wars got an anime series this month, as Star Wars: Visions, took a What If..? approach to A Galaxy Far, Far Away with some canon-questionable shorts from different famed anime studios. The new series on Disney+ caused Wookieepedia to jump 30% day over day to 933 thousand pageviews. Top pages included the series page, The Duel, The Twins, Tatooine Rhapsody, The Ninth Jedi (my personal favorite), and The Village Bride. Interestingly enough, while Star Wars fans were super interested in the new take on one of their favorite series, general anime fans didn't really flock to Visions, with Minecraft still being the overwhelmingly top crossover wiki for anime wiki readers.
Editors of the Month
Another month has passed and it is time to observe our monthly ritual of celebrating contributors who went above and beyond the call of fandom in their editing and/or administrative efforts.
Gaming Editor of the Month - Midori42
Midori leads an awesome community of users at the Ensemble Stars Wiki who care about inclusivity and accessibility and who do great theming design and community management. Almost all their edits are on that wiki and it's an astounding number of edits - over 84 thousand! Not only does Midori have time for those edits, but also for interacting with other editors and helping them out on the wiki and in the wiki's Discord server. In addition, Midori was very open to start collaboration with non-English Ensemble Stars wikis to help the international community grow. The wikis they edited in the past include the BTS Wiki, the German Ensemble Stars Wiki, the Ensemble Girls Wiki and Community Central.
Anime Editor of the Month - OttoLannister550
OttoLannister is an experienced user who loves to delve into technical aspects of wikis. Not only do they edit the Tower of God Wiki on a regular basis, but they also provided so many CSS fixes during the FandomDesktop rollout that they did almost all the work for the WR and the other administrators. Otto contributes to the testing wiki Wreck-It Woodhouse, Hotel Empire Tycoon Wiki, Tower of God Wiki, Naoki Urasawa's Monster Wiki, Community Central and many more, including a lot of anime communities. This user deserves recognition for their code learning skills and helping multiple communities with their knowledge!
Esports Editor of the Month - Kylecreate
Kylecreate has been a contributor to the Call of Duty Esports Wiki for a few years. Over the past month, he has helped bring the Halo Esports Wiki back to life heading into Halo Infinite later this year! Besides filling out missing information on old tournaments and adding new offseason ones, he has also contributed positively to growing the wiki's twitter account.
TV and Movies Editor of the Month - DexDevotee
The name really says it all: she always works tirelessly on the Dexter wiki - her activity is super frequent and she covers all sorts of wiki needs, from maintenance, to making sure the information on the pages is consistent. Dexter is a little more particular than other TV wikis in how it structures the content, as there are lots of lists for things, and some specific details on characters who are killers and things like that, so, to have someone constantly editing and making sure it's alright is key for the wiki.
Emerging Interests Editor of the Month - Moridin 2000
Remember how I said the Wheel of Time wiki spiked after the trailer? Well, Moridin 2000 was up for the task of getting that wiki ready. The content creation, revisions, and leadership displayed this month was incredible. Just a look at their user page gives you a good indication of how you can help that wiki out, should you be a fan of Robert Jordan's magnum opus, as they are.
Well, that's a wrap for September 2021. I'll see you next month as we recap October. I've got a spoiler for you… Page status indicators are coming next week. We're adopting this core MediaWiki format added with MW 1.25, so that you can add indicators of features, canon vs fanon, main universe vs alternate universe, page type, etc. to your article headers without a custom CSS/JS approach.

Fandom Staff
Will is the Global Communications Lead at Fandom. Previously, he was the Community Manager for Gamepedia and the Gaming Community Manager for Imzy. Outside of work, he hangs at the beach, explores breweries, plays golf, and lifts big weights for fun.
Want to stay up to date on the latest feature releases and news from Fandom?
Click here to follow the Fandom staff blog.
Interested in learning more about community management on Fandom?
Click here to view our community management blog.

Would you like insights on wiki building and usability?
Read through our Best Practices guides for keeping your community growing and healthy.
Want to get real-time access to fellow editors and staff?
Join our Official Discord server for registered editors!