Hey gang!
The penultimate month of 2021 has come to a close and it is time to observe the rituals of community. Let's review the month that was November 2021.
Celebrating Native American Heritage Month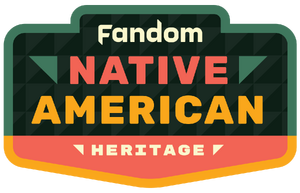 Like our celebration of Hispanic Heritage Month in October, we paused to recognize and celebrate Native American Heritage Month in November with a blog post highlighting movies and TV shows that incorporate characters and themes related to the tribes of American Indians and Alaskan Natives. We continued to use our special Heritage Discord server for discussing how wikis can best honor the heritage of the tribes and their people.
Starlight Design-A-Gown winner
Back in September, we invited the entire Fandom community - readers, editors, admins, and staff - to join us in a really cool initiative to help Starlight Children's Foundation design their next comfortable hospital gown for kids. These colorful gowns are much nicer than standard gowns, which help bring joy to kids during long and sometimes frequent hospital stays while battling serious illnesses. We received 91 entries, narrowed them down to 3 finalists, and let the community pick the winner. The next Starlight hospital gown will be using a design from Jory, who is one of Fandom's product designers.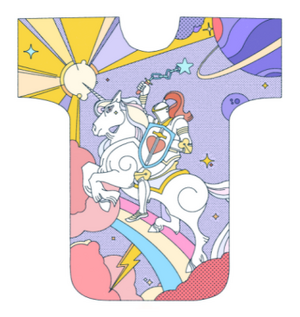 Community Spotlight
This month, I'm pleased to spotlight two teams of wiki admins who have taken the opportunity created by the new FandomDesktop design to refresh their own community themes.
The Last of Us wiki has a very cool new design that subverts your expectations on what a Light or Dark Theme should feel like, with the Dark Theme featuring a lighter community header and the Light Theme featuring a darker community header. It really works well with the user experience and we applaud the admins' creativity!
The Hearthstone wiki has a gorgeous new look that really immerses the reader into the game's signature design style. It is best described as cozy tavern chic and you should really check it out. Big props to the admin team! You did a fantastic job.
Data is Fun
Our monthly rituals would not be possible without the diligent trend analysis provided by our Site Analytics team and their manager, Maggie Owens. She runs a great internal chat channel called Data Is Fun, which provides the meat for this eponymous recurring segment. After this post goes live, she'll be doing an Ask Me Anything session on the official Fandom Editor Discord server to talk about tracking wiki traffic and linking up trends to external events.
Yellowstone season 4 debuted on Paramount+ this month and caused 2 wiki communities to spike. Unsurprisingly, the first was the Yellowstone TV Show wiki, which jumped 200% to 125 thousand pageviews in the week following the season premiere. The top pages visited included Kayce Dutton, John Dutton, and the Dutton Family. The second wiki community to spike after the season premiere was the Western Series wiki, which chronicles the best Western shows on TV. It jumped 271% to 338 thousand weekly pageviews. That's right, the genre wiki did better than the series wiki. Why? The genre wiki has fantastic search engine optimization and actually appears above the series wiki on some searches for the TV show.
Halo Infinite got a surprise early release of its multiplayer game mode at the end of the Xbox 20th Anniversary celebration stream on November 14th. While the full game, including its series-first open-world campaign mode, releases on December 8th, millions of PC and Xbox players jumped into the armor of SPARTANs and did battle across the galaxy. How did Halo Alpha fare with this release? An immediate 14% spike to 75 thousand daily pageviews and a continued increase since, with the community averaging 100 thousand views per day. Top pages include the main series protagonist John-117, Halo Reach's player character, SPARTAN-B312 (AKA Noble Six), and the greatest threat to the whole existence of life in the galaxy, the Flood.
The long-awaited Wheel of Time TV adaptation debuted on Amazon Prime on November 19th and caused a pair of related wikis to trend. The book series centric Wheel of Time wiki went soaring 361% to 1.4 million pageviews over the debut weekend, which is the lifetime pageview peak for the wiki. Each weekend, we've seen the wiki spike in traffic as new episodes release and viewers run to the wiki for more information about characters. The top pages are series protagonists Rand al'Thor and Perrin Aybara, but you should be warned that the wiki has quite a bit of story spoilers from the 14 books written by Robert Jordan and Brandon Sanderson. The other wiki impacted by the series debut was naturally the Wheel of Time TV series wiki, which jumped 745% to 113 thousand pageviews over the debut weekend. It's rather curious how the top pages differed between these communities, with the TV focused wiki having Mat Cathon actor Barney Harris and character Thom Merrilin (played by the incredible Alexandre Willaume) at the top of the list. Barney's page is likely the #1 page due to the decision to recast Mat in the show's second season for as yet unknown reasons. For folks looking to better understand what's going on in the show without tons of book spoilers out there, definitely check out the TV focused wiki.
This is a smaller trend, but really quite interesting. Organic discussion of a discontinued Taco Bell menu item caused our Taco Bell wiki (yes, we have one) to spike 120% to 5 thousand daily pageviews. The spike was centered around the Bell Beefer, Taco Bell's answer to the fast food hamburger from the 1970's to mid 1990's. The Bell Beefer made a brief comeback in the 2010's as competitors made dollar menus and it must have been discussed somewhere that we cannot search because its page spiked 2,502% in a single day to 2 thousand pageviews.
Editors of the Month
Closing out the monthly rituals, as always, is the naming of our newest Editors of the Month. These are the contributors who have risen above and beyond the call of duty to provide for their communities and we honor their hard work and dedication.
Anime - Ya Boi King Kai
It's Ya Boi King Kai coming at you with the Anime Editor of the Month honors for November 2021! They are a terrific Admin on two of the largest and most established anime wikis, Dragon Ball and JoJo's Bizarre Adventure. They do a fantastic job of keeping ahead of spam and moderating the community to everyone's benefit. These wikis are organized and welcoming to newcomers largely because of the effort they've put into them.
TV/Movies - Kassilon
We knew The Wheel of Time TV series was going to be big with its premiere this month, and Kassilon has been devotedly getting the wiki ready for months now, keeping it up to date with everything new. The television series has its own wiki to spare new fans from the immense book spoilers, and Kassilon's been an all-around star contributor in getting it built from the ground up. Tai'shar Manetheren!
Gaming - Void Smasher
Void Smasher is a tireless editor on the Wasteland Wiki, one of the official wikis that migrated to Fandom after we joined forces with Gamepedia. In just a few months he accumulated thousands edits and nearly five hundred articles created, keeping the wiki up to date with the patches and DLCs that came out since Wasteland 3 released. What he does might not seem flashy to some users, but his continuing contributions, attention to detail, and a spotless work ethic make him the bedrock of the wiki.
Emerging Interests - PowerLord23
PowerLord is an understanding user and fantastic moderator of Dinopedia. They really look out for and respect the opinions of other users, and take the time to talk about it with them. They're also good at checking when a ban is fair or unfair and when users have been mistakenly maligned.
Esports - GlaiveIV
For the last 4 months, Glaive has helped a lot on the Fortnite esports wiki to keep the whole North American section updated, from player pages and team pages to Power Rankings. He's also gone beyond that to help out with the Halo esports wiki. Thanks Glaive!
Well, that's it for November! Be on the lookout for my This Year at Fandom mega wrap-up blog in mid-December before Fandom staff goes on holiday break.

Fandom Staff
Will was the Global Communications Lead at Fandom, but no longer works here. Before that, he was the Community Manager for Gamepedia and the Gaming Community Manager for Imzy. Outside of work, he hangs at the beach, explores breweries, plays golf, and lifts big weights for fun.
Want to stay up to date on the latest feature releases and news from Fandom?
Click here to follow the Fandom staff blog.
Interested in learning more about community management on Fandom?
Click here to view our community management blog.

Would you like insights on wiki building and usability?
Read through our Best Practices guides for keeping your community growing and healthy.
Want to get real-time access to fellow editors and staff?
Join our Official Discord server for registered editors!