Hey gang!
Today, I'm excited to talk to you about an upcoming expansion of our Theme Designer tool for wiki administrators. As you know, Theme Designer 2.0 launched with FandomDesktop this summer which included Light and Dark theme support. We've already delivered a change to the feature, allowing you to set your community background as a header or full background, thanks to great feedback from administrators. In a few weeks, we're delivering another big change that the community has requested for years and Theme Designer 2.0 allows us to achieve: Theme Designer support is coming to Discussions!
Some Background
Theming is how communities stand out and express their unique identities to readers and contributors alike. A good theme can signal trustworthiness and passion to visitors, while also promoting accessibility and contributor pride. Since its launch, Discussions has been unable to take advantage of Theme Designer customization. This caused a disconnect between the reference content (the wiki) and the social aspect (Discussions) within a given community.
When we launched Discussions 5 years ago, the extent to which you could theme the experience was including a community logo and a basic header. The following years had a lot of feature additions, like image uploads, polls, username mentions, on-site notifications, related wiki articles, etc., but it took a while for us to address theming.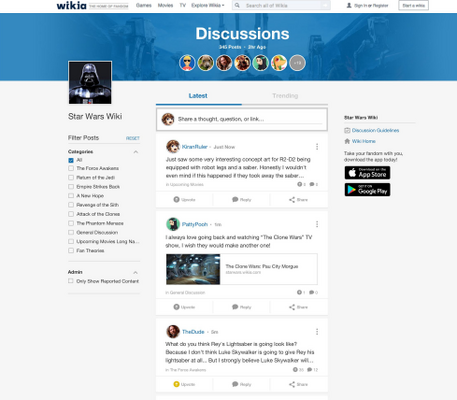 In 2019, we launched a more robust customization experience for Discussions which made great strides, but the disconnect between the reference content and the social content was still there. The background image was visible, but with a prominent fade representing a previous, pre-FandomDesktop design exploration for what the site could potentially look like.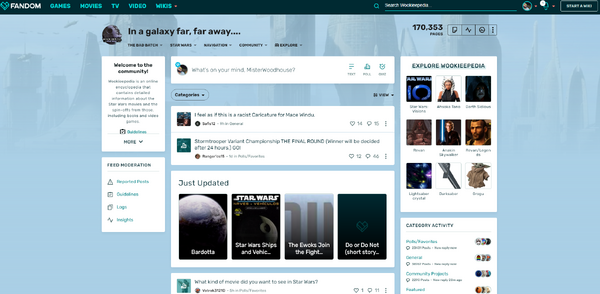 With Theme Designer 2.0 support for Discussions, we're bridging that disconnect.
The Unification of Theme Designer
We announced that Theme Designer support for Discussions was coming at Community Connect last month. Here is what it looks like:
Quite simply, the customization decisions you make for the wiki-side of your community will now be reflected within Discussions. The color choices you make will be consistent. Your background choices will be consistent, including the choice between a header background or a full background. And you'll be able to harness the power of Light and Dark themes on Discussions. That's been a big ask for years, particularly from gaming communities. No more styling these experiences differently, just a unified theme for your community.
It is important to note that a community's custom CSS and custom JS will not be available in the Discussions space, as it is not part of MediaWiki. While theming support is now available, the underlying technical infrastructure of Discussions has not changed.
When can we get it?
We will be releasing this change over the course of a few weeks, as changing how a major feature is presented to the user is a complex endeavor. Our plan is to make a first release that provides initial theming benefits as well as a foundation for the remaining work and then release the additional components as they're ready to go. The foundational release is targeted for next week, with the remaining components coming in October.
First Release next week:
Full wiki color theming choices
New global navigation on the left with Fandom's new brand identity
Your chosen Light or Dark theme preference, controlled by the theme chosen on the wiki or your global preference
Background support 2.0 - both header and full background styles will be supported
Follow up releases in October:
Light and Dark theme toggle within Discussions
Revised local navigation
An Extra Benefit
As part of this release, Discussions will become our first foray into mobile theming through Theme Designer. We're very excited to see how expression of wiki identity on mobile devices enhances your communities, so this update will serve as a great barometer for continued exploration of expanding your community theme beyond the desktop experience.
Look for an announcement when this change is live. In the meantime, I'll be happy to take your questions, as always.

Fandom Staff
Will was the Global Communications Lead at Fandom, but no longer works here. Before that, he was the Community Manager for Gamepedia and the Gaming Community Manager for Imzy. Outside of work, he hangs at the beach, explores breweries, plays golf, and lifts big weights for fun.
Want to stay up to date on the latest feature releases and news from Fandom?
Click here to follow the Fandom staff blog.
Interested in learning more about community management on Fandom?
Click here to view our community management blog.

Would you like insights on wiki building and usability?
Read through our Best Practices guides for keeping your community growing and healthy.
Want to get real-time access to fellow editors and staff?
Join our Official Discord server for registered editors!