Hello, all!
As promised, this is the follow-up to last week's blog post with our first update on what is being called the Unified Community Platform (UCP) project.
Before we dive into work we're doing or have completed already, I'm going to address some concerns from last week's blog.
What will happen to my wiki's content?
It will be migrated onto the new platform. It will still be your wiki. Your edits will still be your edits. We're working to make the migration as painless as possible.
What will happen to my account permissions?
Your account rights will be respected. We may have to make some slight changes to the rights themselves, like names or exact permissions, but you will have the equivalent of your current rights on the new platform.
What happens to wikis on the same game during the migration?
We're not forcing merges of Fandom and Gamepedia counterparts. Project Crossover is still voluntary.
Work In Progress and Completed
As I mentioned, a lot of foundation building for the new platform has been going on over the past few months — I'd like to share some of that with you now.
User Research
As we promised in the Community Contract, we have been reaching out to the community when input is required. We have been conducting very in-depth research into user experience, workflows, consumption behavior, desired features, etc. over the past several months. This research has come in several forms, including surveys and one-on-one interviews. We are leveraging what we have learned from these efforts in combination with our own wiki expertise to drive decisions in design and feature development. This work is ongoing and will continue even after the UCP and subsequent new features are delivered, as we will always seek to improve the platform.
Ads
One of the earliest projects we completed after Fandom and Gamepedia joined forces was unifying the advertising code between the platforms, allowing us to focus our efforts on providing better quality ads and reducing issues from third-party providers.
User Tables
As mentioned in the previous blog, we are working on unifying the user tables, allowing us to move forward towards universal logins on the new platform. We will have more details on how unified accounts will work on the UCP as we get closer to launch, with more information on how to resolve issues with multiple accounts sooner than that.
Search
Right now, we're working on search enhancements that will provide a more holistic view of the entire wiki network and the different content types available there, a key component for platform unification. Gamepedia is now included in community search results on Fandom!
The Platform Itself
We currently have an internal test bed running Fandom on MediaWiki 1.33, allowing us to see how the platform currently operates in the big jump from our very customized fork of MediaWiki 1.19 (with all of its custom features on the Fandom platform). We are leveraging all the incredible knowledge and experience with Gamepedia's modern codebase into an incredible new platform.
Four Features Being Retired/Replaced
We pledged to you in the Community Contract that we would be transparent about platform decisions, grounding them in data and sharing that data when possible. As such, we have four feature retirements and/or replacements to announce:
Forums (Fandom)

As a result of past migrations, Special:Forum is a feature used regularly by fewer than 100 out of over 350,000 wikis, and the code for it is quite old, making it a nonviable feature for porting to the new platform. With continued enhancements to Community Feeds/Discussions and the availability of wiki-style forums through the DPL extension, we have decided to retire Forums in the lead up to the UCP release. At the latest, we will have Forums retired by mid-January.
We understand that the wiki communities which still use Forums are very passionate, and many of them use it extensively. We will be working with those communities to migrate over to the aforementioned replacement solutions. We will even have a separate place here on Community Central for admins and editors from these wikis to discuss the change and seek staff help.
Message Wall (Fandom)

Message Wall is actually built on the same system as Forums and, as such, must be retired when we move to the UCP. We understand the need for user-to-user communication in the way that Message Wall facilitates, and we will have a replacement in place on the UCP. We will be transitioning your Message Wall content to the replacement.
Article Comments (Fandom)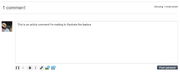 The Article Comments system is likewise built on the same system as Forums and must be retired alongside it. We are currently exploring a replacement that would be more user friendly and more useful, but we're interested in hearing from any wiki communities that have unique use cases for Article Comments now, as it will help inform our work.
Profile (Fandom and Gamepedia)
Profile is not being retired, per se. It is being replaced with a new Unified Profile that makes use of the best Profile aspects from Fandom and Gamepedia, with some new enhancements. We don't have specific timing for this yet, but given Profile's relation to Message Wall, we wanted to let you know about this feature in development now.
One New-ish Feature
While many of the UCP's new features are not at a stage to be unveiled just yet, I am happy to announce that — in addition to the entry-level and pro-style editors you have come to expect — Fandom users on the UCP will also be able to take advantage of another flavor of editor that Gamepedia users have been enjoying for a long time — the mobile editor!
A recent survey of 2,550 Gamepedia editors has revealed that mobile editing provides a huge opportunity for attracting new editors to wikis. 33.4% of Gamepedia editors surveyed said that their first edit was made using mobile editor. That is a staggering number when you consider the number of editors on each platform. From this data, we recognize that this is a real need for Gamepedia users as they transition over to the new platform.
This same survey also revealed that we have a rare opportunity to make the mobile editing experience better for all users, as first-time editors on mobile were significantly less likely to edit again or recommend editing compared to first-time editors on desktop. While we have nothing specific to announce, we are exploring ways to make mobile editing a better entry-point for new editors in the new UCP experience than it is today.
As with all announcements, we are happy to take your questions about what we've discussed today! If you have a staff question about another topic or need support, please contact us here.

Fandom Staff
Will was the Global Communications Lead at Fandom, but no longer works here. Before that, he was the Community Manager for Gamepedia and the Gaming Community Manager for Imzy. Outside of work, he hangs at the beach, explores breweries, plays golf, and lifts big weights for fun.
Want to stay up to date on the latest feature releases and news from Fandom?
Click here to follow the Fandom staff blog.
Interested in learning more about community management on Fandom?
Click here to view our community management blog.

Would you like insights on wiki building and usability?
Read through our Best Practices guides for keeping your community growing and healthy.
Want to get real-time access to fellow editors and staff?
Join our Official Discord server for registered editors!