This blog was originally released in May when the Simple Wiki Migration phase of the UCP Project began. Since then, we have made dozens of releases, including several major feature rebuilds, countless bug fixes, and some long-desired feature enhancements. If you'd like to learn more, here are some useful links:
If this is the first you're hearing about the Unified Community Platform project, read this to learn more about the entire scope of the project.
The crux of this update is getting Fandom's platform up to date with MediaWiki, the engine which runs all the wikis. We've moved from version 1.19 to version 1.33 with this project. Learn more about why a MediaWiki update is so critical in this blog.
Back in July, we successfully merged the Fandom and Gamepedia login systems, so now you can use your account on any Fandom, Wikia.org, or Gamepedia wiki. Learn more about that process on this blog post.
Chat is being retired, due to low overall use. Read more here.
We're retiring Special:Forum 4 years after its initial planned end of service. To ease the transition, we worked with Forums heavy communities and administrators to come up with a round of enhancements to Discussions. To learn more, click here. This is not the end of us improving Discussions, but it's a good step.
We rebuilt the Blogs system for the UCP. To learn more, click here.
At the end of August, we paused migrations to resolve a few critical blockers and implement some new features. Learn more about the work we did from this blog.
We now return you to your regularly scheduled blog post.
---
Hey gang!
We are happy to announce that the Unified Community Platform is entering the second stage of the rollout - moving wikis without complex extensions or feature sets over to the new platform!
What does that mean? It means that the Unified Community Platform has reached the point where a number of existing wikis on the legacy Fandom platform can now move over to take advantage of new and improved tools like mobile editing and the 2017 Editor from the Wikimedia Foundation, just like the one used on Wikipedia.
You're probably wondering how wikis will be selected. That's covered later in the blog, but first I want to walk you through some major features released recently or soon to be released.
What's new since UCP initial release and coming soon?
Mobile Editor
As mentioned last year, a survey of Gamepedia editors revealed that 34% of editors on that platform had their first edit experience on mobile. It is a massive opportunity for engaging new editors and also providing a better option for editors from countries where a smartphone is more likely to be their primary device for accessing the internet. Mobile Editor was added to the UCP a few weeks ago. You can learn more here.
Article Comments
Redesigned to run on the same technology as Discussions, Article Comments will perform the same role as before and existing content will be transferred over. This does mean that, while the new Article Comments system will not support the use of wikitext, it will have the most common formatting options. Additionally, we are looking at trends in wikitext use from legacy products like Forums, old Message Wall, and old Article Comments to see if there is a better way forward for advanced formatting. We'll have more info on that in the coming months.
Custom JavaScript
With the deployment of the CodeEditor solution in the last few weeks, we were able to support local custom CSS and global user CSS. With the release of the JS Review process in the near future, we will be able to support custom JavaScript for UCP wikis. Global personal JavaScript from the legacy platform will not carry over yet, as Community Central will be among the final wikis on Fandom migrated over to the new software.
Discussions enhancements from Forums feedback
Thanks to fantastic feedback and input from our Forums power users, we will be deploying the first round of enhancements to Discussions to make it friendlier for communities moving over from Forums. The first enhancements focus on making the Discussions feed more user-friendly for fans of a more traditional forum experience, with an optional condensed post list view and more emphasis on categories. Here are some design illustrations of these enhancements. They do not reflect the final implementations.
The Current View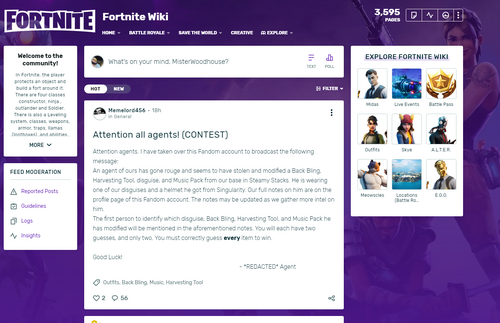 The Condensed View (Optional)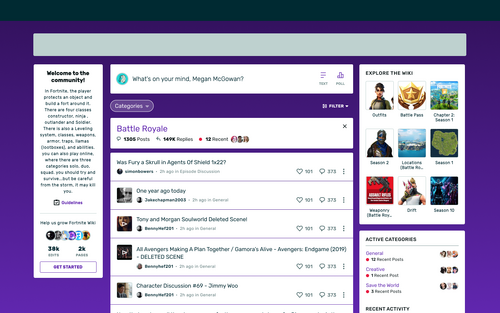 Disregard the mismatch of content. It's just a design system thing.
Thanks to the results of a User Experience Research (UXR) study we conducted recently, you can expect further enhancements in the future. For more information about enhancements to Discussions and Forums migration, read this blog post.
How are wikis selected?
For the first batch, our Product and Search Engine Optimization (SEO) teams looked at wikis based on the availability of features on the Unified Community Platform which they need to succeed. We considered wikis with different levels of traffic, to best understand how well they migrate onto the platform. Wikis were disqualified if they had any of the following:
Unmigrated Forums - Soon to be complete!
MediaGallery
Achievements - Now on the UCP!!
Blogs - Now on the UCP!
Custom JavaScript - Now on the UCP!
Semantic MediaWiki - Soon to be deployed!
Shared uploads configured with a wiki that would also not be migrated in this round

The wiki teams then double-checked the list against their own knowledge of the individual communities, to ensure that wikis slated for migration are well-suited to thrive on the new platform. For example, wikis that have new content rolling out might be excluded from this initial wave so that there is no disruption to the ongoing discussion of said content.
Additionally, we have a process available for wikis that have not yet been selected by staff for migration to volunteer themselves. You can find information on that process and how to use it on this blog.
How will migration work?
A banner will appear at the top of the wikis slated for migration, similar to ones we've used for important platform notices in the past. It is likely that you came to read this post from a link in one of those banners!
On the migration day, all of your wiki content will be imported onto the new platform.
Here's how that will work:
Your wiki will go read-only
A backup of your content will be made
A copy of that backup will be made and will stay on the legacy platform
The original backup will run through an automated upgrade process and be set up on the new platform
In that process, a script will check the structure of your content so that it looks like it would've been a fresh UCP wiki (but with all your content, edit history, etc)
Several requests will be made against key pages on your wiki on the new platform to check for errors, like content not displaying correctly, database exceptions, etc.
The wiki domain will then point to the version on the UCP and your wiki will no longer be read-only
We will have alerts set for error spikes after your wiki transitions to the new platform and, if something goes wrong that cannot be fixed quickly, we'll be able to revert your wiki back to the legacy platform.
If the import does not work correctly for some reason (i.e. the content does not transfer accurately or the import service fails) or another issue comes up with your migration, we will be able to point your URL back to the copy on the legacy platform. The reason that the SEO team has been involved in curating the first batch of migrations is to make sure we get good data on how the SEO for wikis changes. We are anticipating a net benefit to SEO as a result of the performance improvements on the new platform.
Next Steps
This stage is the second step in our process to get all the wikis in good standing onto a single codebase running a modern version of MediaWiki. As the process goes on, more and more features from the legacy Fandom and Gamepedia platforms will be added onto the new platform.
In the meantime, we're happy to take your questions and answer what we can. To keep an eye on the details of what is released week to week, including bugs fixes and new feature additions, be sure to read the Release Highlights posts in the Technical Updates forum.

Fandom Staff
Will was the Global Communications Lead at Fandom, but no longer works here. Before that, he was the Community Manager for Gamepedia and the Gaming Community Manager for Imzy. Outside of work, he hangs at the beach, explores breweries, plays golf, and lifts big weights for fun.
Want to stay up to date on the latest feature releases and news from Fandom?
Click here to follow the Fandom staff blog.
Interested in learning more about community management on Fandom?
Click here to view our community management blog.

Would you like insights on wiki building and usability?
Read through our Best Practices guides for keeping your community growing and healthy.
Want to get real-time access to fellow editors and staff?
Join our Official Discord server for registered editors!