Hey gang!
In September, we announced our partnership with Starlight Children's Foundation, a fantastic organization that runs a few programs to help bring comfort to kids going through treatment for serious illnesses at children's hospitals in the United States.
As part of that partnership, we invited the entire Fandom community - editors, readers, contractors, and staff - to take part in designing the next comfortable, colorful hospital gown for Starlight's signature program, Starlight Hospital Wear. These side-cinching gowns provide additional comfort for kids braving long and, sometimes, frequent hospital stays. You stepped up. We got 91 fantastic entries into our Design-A-Gown contest, narrowed those down to 3 finalists, and let you choose the winner.
We are very pleased to announce that the winner of our Starlight Design-A-Gown contest is…
JORY!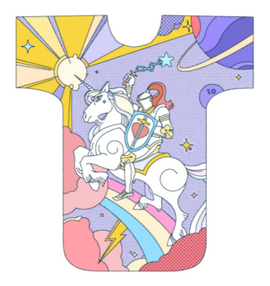 Jory's unicorn-riding champion on a lightning rainbow was the big winner, with nearly half of the votes cast. Jory is a Product Designer here at Fandom and tapped into his artistic side for this contest, wanting to create something that would make kids smile and feel brave. Jory's gown will go into production and be distributed to thousands of kids across the United States.
Thank you to the 91 contestants and the hundreds of voters who ultimately decided upon the winner. This contest was a lot of fun for us at Fandom and we're so pleased to watch the impact it will have on the lives of these children fighting serious illnesses.

Fandom Staff
Will is the Global Communications Lead at Fandom. Previously, he was the Community Manager for Gamepedia and the Gaming Community Manager for Imzy. Outside of work, he hangs at the beach, explores breweries, plays golf, and lifts big weights for fun.
Want to stay up to date on the latest feature releases and news from Fandom?
Click here to follow the Fandom staff blog.
Interested in learning more about community management on Fandom?
Click here to view our community management blog.

Would you like insights on wiki building and usability?
Read through our Best Practices guides for keeping your community growing and healthy.
Want to get real-time access to fellow editors and staff?
Join our Official Discord server for registered editors!