Please note that the submission period has now closed. We will announce finalists on October 20th and open voting.
Hey gang!
Today, I'm really excited to announce a partnership that has become near and dear to my heart. Fandom is teaming up with Starlight Children's Foundation for a very fun contest to help bring joy to kids dealing with serious illness across the United States by providing them with awesome hospital gowns that are more comfortable and more colorful than the standard gowns.
What is Starlight?
Starlight Children's Foundation opened its doors in 1982 with a simple but impactful mission: Delivering happiness to seriously ill children. They are best known for their Starlight Gaming program, bringing gaming stations to children's hospitals to provide kids with an escape into imagined worlds. Over the past 39 years, they have helped more than 17 million kids in more than 800 children's hospitals.
The program we're focusing on with them is relatively new. It's called Starlight Hospital Wear and, as somebody who spent a lot of time in children's hospitals as a kid, I have to say that it's very, VERY cool. Starlight makes better hospital gowns for kids, replacing the back-cinching. monochromatic gowns hospitals are known for with side-cinching, colorful gowns that are more comfortable and literally brighten a kid's day. Being even a little bit more comfortable can help a kid to navigate a really stressful situation like a long and/or repeated hospital visit easier, so this program is awesome. Bringing joy and celebrating the love of fans are core to our mission at Fandom and what Starlight does really resonates with that, so we're very excited to partner with them on this.
Design-A-Gown
Starlight has provided over 260,000 gowns since the Starlight Hospital Wear program started in 2016 and we want to grow that number!
Here's where you come in! We are holding a contest to design the next gown for Starlight Hospital Wear. The winning entry will go into production as the next comfortable, side-cinching gown that Starlight distributes across the country to partnered children's hospitals.
We're calling on all the artistically-talented contributors on Fandom to give this your best shot. We want the kids to have something awesome to wear during their hospital visits and having YOUR design bring comfort to countless kids is truly an incredible legacy. For more information on full contest rules, how to get started, and how to submit your design, visit this page.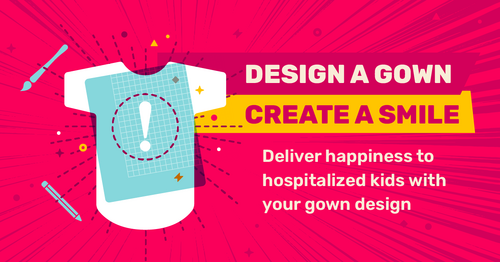 Submissions end on October 1st and then we'll be selecting 3 finalists. Voting for the eventual winner will run from October 14th to 21st, with the winner announced on November 3rd.
Be sure to share your designs on social media as well, using #DesignHappiness. #ForTheLoveOfSharingLight, and tagging us and Starlight for visibility!
Instagram handles: @StarlightChildrensFoundation and @GetFandom
Twitter handles: @StarlightUS and @GetFandom
If art isn't really your thing, but you still want to help out, fret not! A $35 donation to Starlight can help provide a comfy, colorful gown to a hospitalized child. Additionally, Fandom is making a $50,000 donation to Starlight as part of this collaboration.
Why this is important to me
One of my good friends growing up spent a lot of time at our local children's hospital battling Cystic Fibrosis (CF). It's a condition which causes serious problems for breathing, digestion, and other bodily functions. When she was diagnosed with CF, the life expectancy was not good.
Having your life disrupted for tons of treatment, enduring extended stays at hospitals, and living with the reality that your life will be shorter than your friends' lives is tough no matter what age you are. Dealing with that when you're in grade school is brutal. This was a few years into Starlight's partnership with Nintendo of America to provide Super Nintendo consoles to children's hospitals. The visits I spent with her playing Super Mario World were incredible and made her hospital stays just that much better.
Today, she's exceeded the life expectancy projected at the time of her diagnosis. Starlight truly makes a big difference in the lives of seriously ill children and their families. Take it from me. I saw it firsthand.
Alright, let's get to drawing and put smiles on faces, For The Love of Helping Sick Kids.

Fandom Staff
Will was the Global Communications Lead at Fandom, but no longer works here. Before that, he was the Community Manager for Gamepedia and the Gaming Community Manager for Imzy. Outside of work, he hangs at the beach, explores breweries, plays golf, and lifts big weights for fun.
Want to stay up to date on the latest feature releases and news from Fandom?
Click here to follow the Fandom staff blog.
Interested in learning more about community management on Fandom?
Click here to view our community management blog.

Would you like insights on wiki building and usability?
Read through our Best Practices guides for keeping your community growing and healthy.
Want to get real-time access to fellow editors and staff?
Join our Official Discord server for registered editors!