For context, we paused Unified Community Platform migrations at the end of August to put "all hands on deck" for critical development to resolve some blockers. Read more about that here.
Hey gang!
I am very happy to announce that, in addition to the critical bugs getting fixed, our teams have also successfully released our first version of the new Social Activity Feed as well as the 2010 Editor onto the Unified Community Platform.
Activity Feed
You will now see tabs in Recent Changes for Social Activity (Message Wall and Article Comments) and Image Activity (Special:NewFiles).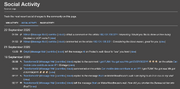 Social Activity gives you a look into recent changes on Message Wall and Article Comments, with useful links for context.
Image Activity loads Special:NewFiles within the tab structure of the redesigned Recent Changes page, allowing you to switch between the three feeds easily.
One piece of feedback we got from you was hoping to see a single, unified Recent Changes with everything. Unfortunately, the complexities of integrating MediaWiki edits and Feeds contributions were too high, given the modifications necessary for this core MediaWiki feature. This solution solves for an "at-a-glance" moderation of wiki, social, and image activity without changes to core MediaWiki code that could make future updates harder to deliver.
I want to note that while the wiki related items are listed as Wiki Activity in the new structure, it is not Special:WikiActivity from the old platform. As I've said before, one of our goals is to get more feedback and user research around the use cases of Special:WikiActivity and explore how we can solve for that in the future.

It is also worth repeating that Social Activity is only showing data as of when the feature was released on Thursday, September 17th, not the full history of the wiki, as a new piece of software "listening" for those contributions was created and launched.
We already have further enhancements in the works and they will be released soon, but this is a feature we want to evolve with your feedback. Let us know how you use it, how you'd like to use it, which features you like, which features you don't like, and which features you'd like to see added. Let's build this together!
2010 Editor
The 2010 Editor is now live as well! To use it, you'll need to change your editor preference under My Preferences > Editing to "Source Editor" instead of "Visual Editor - Source Mode." As you can see below, it's a no frills source-only option for the die-hard wiki editor.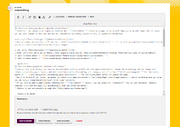 The 2010 Editor, also known as the WikiEditor, has been on Gamepedia for a while, so our team is very familiar with it and the work to put it on the UCP for Gamepedia helped get this done faster than anticipated. The addition of the 2010 Editor is not guaranteed to be permanent. It will live side-by-side with the 2017 Editor as we continue to improve the latter option. We are committed to providing powerful tools for you and we will not remove the 2010 Editor unless we're satisfied that the 2017 Editor's functionality meets all of those needs.
Unpausing Migrations
With the critical bug fixes, Activity Feed release, 2010 Editor release, and updates to our post-migration banner messaging, the "Pause Plan" has been completed. We are unpausing migrations and the first migration batch post-pause (the batch given notice before the pause) will make its way to the UCP the week of September 28th.
Thank you for all of your continued feedback as we keep working on making the platform better and better for you.

Fandom Staff
Will was the Global Communications Lead at Fandom, but no longer works here. Before that, he was the Community Manager for Gamepedia and the Gaming Community Manager for Imzy. Outside of work, he hangs at the beach, explores breweries, plays golf, and lifts big weights for fun.
Want to stay up to date on the latest feature releases and news from Fandom?
Click here to follow the Fandom staff blog.
Interested in learning more about community management on Fandom?
Click here to view our community management blog.

Would you like insights on wiki building and usability?
Read through our Best Practices guides for keeping your community growing and healthy.
Want to get real-time access to fellow editors and staff?
Join our Official Discord server for registered editors!