Hey gang!
If you do not have a Gamepedia account, you can stop reading and watch this video of a dog dancing to "Africa" by the band Toto. People who do have a Gamepedia account in addition to their Fandom account, keep reading and THEN watch the dog video.
As mentioned last year, one of the big things we've been working on within the Unified Community Platform project has been the unification of the Fandom and Gamepedia user tables.
What does that mean? It means that, when we're done, you will have one account for both types of wikis.
If you already have an account for both platforms AND the username is the same on both, you have a username conflict that needs to be resolved and it's super easy to do so! Please follow the following instructions in the next 2 weeks so we can assess additional mitigation options.
Link the Twitch account you use on your Gamepedia account to your Fandom account.
Logged in on Fandom, go to this page and click the Connect with Twitch button (I've already done it, so it shows Disconnect from Twitch):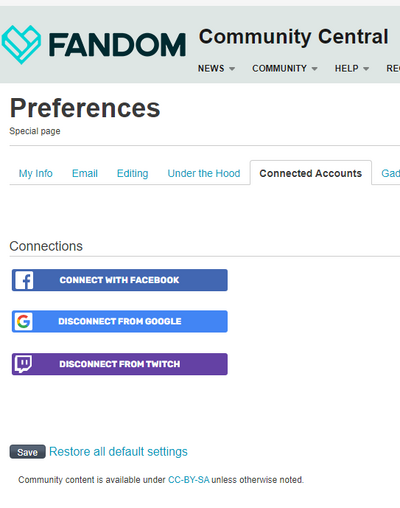 It will pop up a Twitch login, so log in and authorize the connection. If you're using Firefox and get an error about an invalid token, try it on Chrome. It's a Twitch issue which is out of our hands.

After that, you'll see this banner:

And you're done! Seriously. That's it. The conflict mitigation logic will recognize you as the same user and handle it.
Taking this step will help us to understand the scope of remaining username conflicts to resolve, which will assist in crafting the remaining logic and mitigation plans.
---
Troubleshooting a weird issue:
Some users are getting an error when they click connect, saying "We're sorry, we couldn't complete your connection. Please make sure you are logged in to your FANDOM account and have given FANDOM permission to connect with Twitch."
If this is the case, check the Twitch connections page
Go to Other Connections and find Fandom.com
Hit Disconnect
Then attempt to reconnect from Fandom on your PC according to the original instructions, making sure that you don't have any popup blocking enabled.
This resolution has worked for the few users who encountered the error.

Will "MisterWoodhouse" Kavanagh Fandom Staff
Will is the Global Communications Lead at Fandom. Previously, he was the Community Manager for Gamepedia and the Gaming Community Manager for Imzy. Outside of work, he hangs at the beach, explores breweries, plays golf, and lifts big weights for fun.
Want to stay up to date on the latest feature releases and news from Fandom?
Click here to follow the Fandom staff blog.
Interested in learning more about community management on Fandom?
Click here to view our community management blog.

Would you like insights on wiki building and usability?
Read through our Best Practices guides for keeping your community growing and healthy.
Want to get real-time access to fellow editors and staff?
Join our Official Discord server for registered editors!
Community content is available under
CC-BY-SA
unless otherwise noted.