Hello everyone!
As many of you know, we held our first Community Connect in several years a couple of weeks ago, down at Walt Disney World in Orlando, Florida! The weekend was spent discussing wikis, the Unified Community Platform (UCP), the future of Fandom and Gamepedia, and other burning topics like video, Search Engine Optimization (SEO), theming, editor updates, and the types of enhancements we can make for our users once the UCP work is done. While the entire conversation we want to have with the community about what all was said there will take some time, I wanted to share some big takeaways from the event now and preview the next few blogs.
Bridging the Gap
A recurring theme of the weekend was how getting together and communicating beyond just text is incredible for breaking down walls and understanding each other. Since Curse and Fandom joined forces, there has been some palpable rivalry between Gamepedia and Fandom editors, but a lot of that melted away with people talking face to face about wikis and their other shared interests. While the sessions, presentations, and other structured activities were very useful, they could not compare to the impact provided by unstructured socialization between editors. It is hard to remember the human behind text on a screen, but chatting in person, over video, and over voice comms make it easier. Cheesecake also helps. To that end, we are exploring additional avenues for more personal discussions about wikis in the future.
Getting with the Pro-gram
A big reveal we made at Community Connect is our commitment to bring a program like Gamepedia Pro to the Unified Community Platform as a whole. We have not come up with a name, the exact initial benefits, the rollout timeline, or any other details yet. We are counting on you, our editing community, to give your feedback on what you would like to see in such a program.
Fantastic Data and Where To Find It
We also learned that editors are super interested in our User Experience Research (UXR) work. Sessions with Michael Morgan, our Director of UXR (or as editors started calling it, "Legal Human Experimentation"), were among the most popular of the weekend. We are having an Ask Me Anything session with him today (January 29th) from noon to 2pm US Eastern Time in our verified editors Discord server, so please stop by to learn more about how we gather insights about editor, admin, and consumer needs!
So, Brandon and Perkins walk into a bar...
Many of the sessions from Community Connect were taped by a professional camera crew. Once the session recordings are all processed, we will be releasing them onto the Community Connect wiki (where attendees are posting pictures from the event already!). Until then, here is the opening night keynote from our CEO, Perkins Miller, introduced by Brandon Rhea. Fun Fact: Perkins will be doing an Ask Me Anything on our Discord server in the near future, so stay tuned for more information about that!
Next Steps
Other topics you can look forward to learning more about in the coming weeks:
Enhancements for Discussions/Feeds
The new Profile experience
The new versions of Article Comments and Message Wall
Our new flow for creating new wikis
Unified Community Platform Phase 1 details including rollout schedule
The State of Fandom, data about the audiences which come to your wikis
In the meantime, feel free to ask editors who went to Connect about their experience! The event was not bound by any Non-Disclosure Agreement, so they are welcome and encouraged to share about it.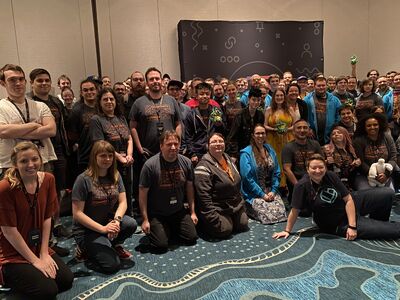 Will "MisterWoodhouse" Kavanagh Fandom Staff
Will is the Global Communications Lead at Fandom. Previously, he was the Community Manager for Gamepedia and the Gaming Community Manager for Imzy. Outside of work, he hangs at the beach, explores breweries, plays golf, and lifts big weights for fun.
Want to stay up to date on the latest feature releases and news from Fandom?
Click here to follow the Fandom staff blog.
Interested in learning more about community management on Fandom?
Click here to view our community management blog.

Would you like insights on wiki building and usability?
Read through our Best Practices guides for keeping your community growing and healthy.
Want to get real-time access to fellow editors and staff?
Join our Official Discord server for registered editors!
Community content is available under
CC-BY-SA
unless otherwise noted.