Hey gang!
As promised, I'm back with more information on the new Profile and Message Wall replacements for Fandom on the Unified Community Platform.
Both of these features were rebuilt to be compatible with the new architecture of the UCP, but look and feel very similar to their old platform counterparts—with some new, modern touches.
Profile
You'll notice that Profile has been given a bit of a refresh. The design is cleaner, with more focus on you as a user than your stats. We also added the ability to personalize your profile with a banner image, much like many of the popular social media platforms. While these Community Central mockups don't really draw attention to it, the Profile feature inherits the theme of the wiki it's on.
We want Profile to be a place where you can express yourself and your fandoms. Who you are is more than an occupation, gender, and location. Since we noticed that some users took those fields and gave more information, the decision was made to make the masthead (top portion under your username) a little more freeform.
About, Message Wall, and Activity replace the current tabs of Profile, Message Wall, and Contributions. Since the entire feature is your Profile, it was confusing for the freeform user page in Profile to also be called Profile. For clarity, it is now called About instead. The functionality remains the same.
The Contributions tab got renamed to Activity, as it more accurately describes its desired function going forward: displaying your activity within a given community. Since Profile was last updated, your overall contributions to the platform have grown to include Discussions. We want the Activity tab to be where you can find more information about a user's engagement in both wiki edits and social engagement, as you can see in the screen below—with Edits representing wiki contributions and Posts representing Discussions contributions. This also applies to future content types, as the UCP is our foundation for innovation with enhancing the community experience with wiki content at the core.
Message Wall
Message Wall is a very simple feature that allows you to receive and reply to messages left for you by other users. The old Message Wall was built on the same custom code in MediaWiki that we used for Special:Forum (which is being retired this Spring and we'll cover the changes we're making to Discussions in another blog). Since that code is being left behind as part of the new platform build, we opted to rebuild Message Wall using the same technology which powers Discussions, otherwise known as Feeds.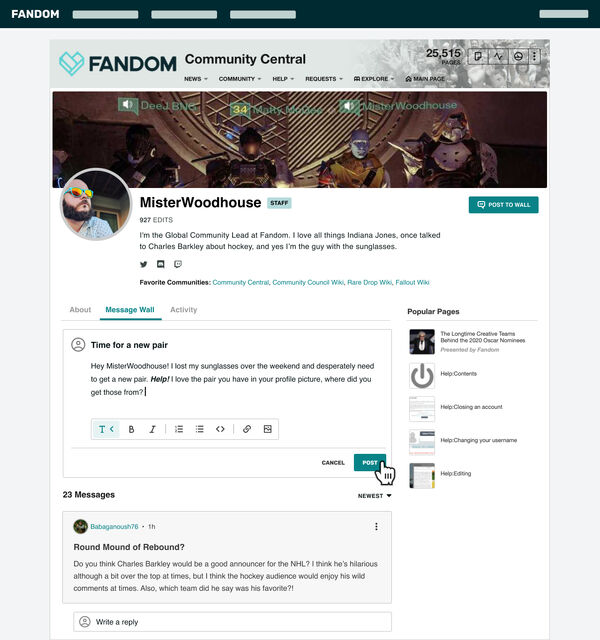 This change in solution allows us to replicate most of the previous functionality while also bringing Message Wall out of the core MediaWiki installation. Operating it separately makes keeping MediaWiki up to date easier because it's not bolted onto one particular instance of MediaWiki. In other words, we didn't reinvent the wall, we just rebuilt it on different software.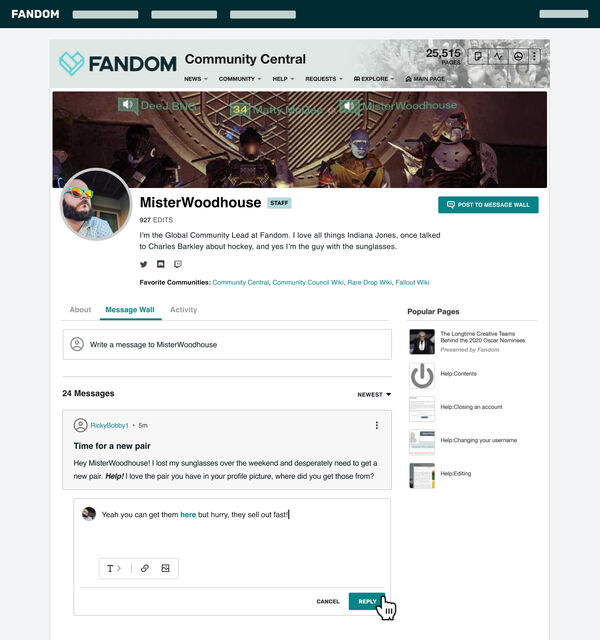 Unfortunately, since the new Message Wall is based on Feeds, it will not be supporting wikitext. This was a very difficult decision for us to make, but in the end, we saw that a very small percentage of messages were making use of the old Message Wall's source editor. As a result, it was determined that such support was not a requirement for user-to-user messaging nor could it justify a refactoring of the technology and a subsequent slower rollout of the UCP. For users who were using Message Wall to share code snippets, we recommend making use of the preformatted text or a sandbox page within your user namespace. As you can see in the example screens, "Word-style" text formatting is supported by the Feeds system. Feeds tech is also much more mobile friendly than the legacy user communication framework, so this shift helps with a lot of mobile experience improvements we're making.
Communities will still have the option to use User Talk Pages instead of Message Wall, should the admins decide to go that route.
One More Thing
We're updating the default avatar options for your profile with the UCP! You'll notice that these options are in line with the signature Fandom brand design we've cultivated. If you want to keep your current avatar, you are certainly able to do so.
The next Phase 1 feature breakout will be on the Editor, which is seeing a MASSIVE upgrade with the UCP! You can look forward to that blog post early next week.

Will "MisterWoodhouse" Kavanagh Fandom Staff
Will is the Global Communications Lead at Fandom. Previously, he was the Community Manager for Gamepedia and the Gaming Community Manager for Imzy. Outside of work, he hangs at the beach, explores breweries, plays golf, and lifts big weights for fun.
Want to stay up to date on the latest feature releases and news from Fandom?
Click here to follow the Fandom staff blog.
Interested in learning more about community management on Fandom?
Click here to view our community management blog.

Would you like insights on wiki building and usability?
Read through our Best Practices guides for keeping your community growing and healthy.
Want to get real-time access to fellow editors and staff?
Join our Official Discord server for registered editors!