Hey gang!
On September 15th (now September 21st and currently live), we are launching a new experiment to bring more relevant products to our fans. In the traditional ad slots, you may start to see contextual ads featuring collectibles, memorabilia, and other items which are related to the wiki you are viewing, from gaming consoles to Funko Pop figures and lots more. Additionally, you will see a Shop link under the staff-controlled Explore tab of the local wiki navigation.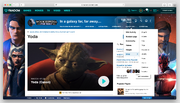 These elements will click through to a new storefront, built by vendor IntentX, that will connect you to products related to topics covered by the roughly 100 wikis in the initial experiment. For every purchase made through these links, Fandom will receive a portion of the revenue. This is referred to as Affiliate Marketing.
The Cool Stuff
Through our User Experience Research studies, we have confirmed that superfans love memorabilia from their top fandoms. Collectibles, books, tie-in movies, limited editions, posters, artwork, clothing, etc. are all super popular in a lot of fandoms. By repurposing some of our existing ad technology to connect users with these items, we help further connect them with the worlds they love vs more branding based traditional advertising.
What does this mean to you?
As our editors, this will have little to no effect on your wiki experience. Most of you don't see most of our ads as registered users. Unless you're opting into seeing all advertisements (and if you are, thank you for your support!), the one thing you'll see is the Shop link under Explore in the local navigation sub-menu.
Since we are partnering with a vendor to do this, the minimal work required from Fandom devs for the affiliate experiment is able to be done in parallel with the Unified Community Platform work. We did not have to slow down UCP work to get this done. Those updates keep on chugging, with Blogs, Discussions enhancements, Semantic MediaWiki, and Achievements all deploying over the past few weeks.
The wikis we're experimenting with will have storefronts relevant to their topics with cool stuff that interested users can buy. Entirely optional to make a purchase there, but doing so helps Fandom provide more awesome stuff for you.
Why is this important?
For years, Fandom's primary source of revenue was traditional web-based advertising. That's allowed a really good flow of funding for projects like software updates, feature design, user experience improvements, bug fixes, staff support, etc., but only when the global ad market is firing on all cylinders. When that market slumps, that can become a problem. The global recession caused by the COVID-19 pandemic has had a major impact on advertising revenue across the industry, and since that's our primary source of revenue for the wiki platform, it's highlighted the need for adding additional revenue sources like Affiliate Marketing to help ensure we can continue to provide for the platform. That includes paying for the core infrastructure and teams that are developing new features, fixing bugs, exploring new content types, and more.
We are committed to searching for new and better ways to fund this platform that we've all built together and make it the best experience possible for all of our users. We believe, and hope that this experiment proves out, that Affiliate Marketing can add another source of revenue beyond traditional advertising and allow us to provide an even better experience and have an even more stable wiki platform in the future. We think Affiliate Marketing, as a new revenue source that's more relevant, is a Win/Win scenario for both Fandom and our users.
As with all announcements, I'm happy to take your questions about this.

Fandom Staff
Will was the Global Communications Lead at Fandom, but no longer works here. Before that, he was the Community Manager for Gamepedia and the Gaming Community Manager for Imzy. Outside of work, he hangs at the beach, explores breweries, plays golf, and lifts big weights for fun.
Want to stay up to date on the latest feature releases and news from Fandom?
Click here to follow the Fandom staff blog.
Interested in learning more about community management on Fandom?
Click here to view our community management blog.

Would you like insights on wiki building and usability?
Read through our Best Practices guides for keeping your community growing and healthy.
Want to get real-time access to fellow editors and staff?
Join our Official Discord server for registered editors!