Hello there!
I am very excited to announce that, in January, we are bringing back Community Connect, an opportunity for direct, in-person dialogue and insight- sharing between Fandom and the communities we serve. This was an event we held previously in 2015 and 2016, and it was well received by the editors who attended. Throughout 2019, we've made important efforts toward bringing a stronger Community First approach to everything that we do. So with upcoming platform changes on the horizon, it felt like the right time to bring this event back and hear directly from users across Fandom and Gamepedia about what's important to them and what their ideas and feedback are.
The conference will be held January 17th through 20th in Orlando, Florida and will focus on the past, present, and future of Fandom, Gamepedia, and the communities we serve. Topics will include Unified Community Platform, the history of the two companies we joined together almost exactly a year earlier, and the overall vision for different segments of the company. We will have speakers from all parts of the company and plenty of opportunities for the voices of our editors to be heard about how we can improve.
It is an invitation only event and, at this time, we are in the process of sending out those invitations to editors we have identified as essential attendees. Fandom will be paying for these editors' travel, accommodations, and most other related expenses. We are selecting attendees based on the sorts of viewpoints we are looking to have represented in the room. If you are not invited, it means that we believe your viewpoint is represented by another attendee. Please do not ask for an invitation.
The reason we are announcing this to Community Central is that we expect attendees to be excited to talk about it before the event and we wanted to make sure that the community understands what the event is.
After Community Connect, we will make sure to share some outcomes of the conference. Most sessions will be filmed and our aim is to make those available sometime after the conference.
If you have any questions about Community Connect 2020, feel free to send them in the comments!
Bonus! Here are two pictures from Community Connect events in 2016, held in San Francisco, California and Poznan, Poland!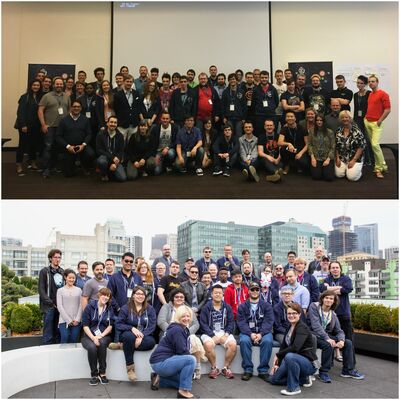 Fandom Staff
Will was the Global Communications Lead at Fandom, but no longer works here. Before that, he was the Community Manager for Gamepedia and the Gaming Community Manager for Imzy. Outside of work, he hangs at the beach, explores breweries, plays golf, and lifts big weights for fun.
Want to stay up to date on the latest feature releases and news from Fandom?
Click here to follow the Fandom staff blog.
Interested in learning more about community management on Fandom?
Click here to view our community management blog.

Would you like insights on wiki building and usability?
Read through our Best Practices guides for keeping your community growing and healthy.
Want to get real-time access to fellow editors and staff?
Join our Official Discord server for registered editors!