Hey gang!
As promised in the introduction to FandomDesktop back in March, we're continuing our More Is More approach to previewing what's coming for Fandom and Gamepedia users. More transparency, more design thinking, more in-depth looks at what is changing before the rollout.
Today, we are looking at the creator tools that our Product team will be able to improve or build once FandomDesktop is live.
This is a huge milestone
It's wild to think that by the time FandomDesktop rolls out and completes a majority of the work we began with the Unified Community Platform, it will have been almost two years since we first talked about UCP. In that announcement, here's what we said:
We will be able to support new extensions you've been clamoring for over the past several years. We will be able to build awesome new features that enhance your wikis. We won't have to worry about the issues presented by an ancient codebase or maintaining two different wiki platforms.
We're finally almost there! With UCP and UCX, we have a foundation to build a robust suite of tools that editors have been asking for over many years, as well as update some of the existing tools that we already have on Fandom and Gamepedia wikis.
As we put the new design through its paces and get ready to open the doors for you to begin preparing your communities to move to it permanently, we are already looking towards the future, both near-term and long-term. The possibilities we've been dreaming of since the UCP project was in pre-production are starting to get closer to reality. We are very excited about what comes next and that we're finally in a place where we can share some early details with you. Let's dive in!
What's coming soon?
The Editor
As shown in the FandomDesktop introduction, we're refreshing the in-editor experience to continue the familiar editor options you already have but with a new light touch to enhance the visual design. Our goal for the FandomDesktop release with the Source Editor (2010) and Visual Editor (2017) is to ensure that they provide the right experiences for the right users that work with the new overall site design.
There are a couple of enhancements of note to call out, the first of which being that the article title will be displayed on the page when using the Source Editor. That is not currently present on the UCP and, thanks to feedback from editors, we're bringing it into the new design.
Another enhancement is that we're bringing the width toggle from the article page into the editor experience. You will be able to set your preferred width in the editor, ideal for folks who have a different desired experience than how they read the article page itself as well as folks who want to see how the page looks live in the Visual Editor at the different widths. This enables you to flip back and forth between your preferred width while ensuring that your content displays in an ideal way for logged out users. We think this is a good way of maintaining best practices for content and user personalization at the same time.
Finally, we're making the local navigation available within the editor experience, appearing as it does when you scroll down the page. This way, you get local links at your disposal without sacrificing vertical or horizontal space.
To keep project scope focused on the redesign, delivering additional editor enhancements and working on known issues with editor features will come in dedicated projects later on. Feedback from editors will continue to be an important part of that work.
The QuickBar
The customizable, collapsible toolbar at the bottom of the page on desktop has had a lot of names over the years: The WikiaBar, the editor bar, the bottom toolbar, and - now - the QuickBar. Since its official name was the WikiaBar, it is one of the only remaining tools which did not get a Fandom rebranding. With the new FandomDesktop experience, we're calling this feature the QuickBar and giving it a design refresh.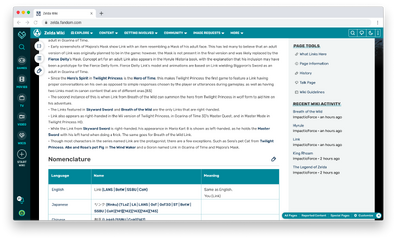 The QuickBar no longer spans the entirety of the page bottom, but rather will now live as a right-mounted flyout that you can collapse into the side of the page. It is still customizable and serves as an entry point for moderation tools, Special Pages, and other tools you find useful. That much has not changed. Just the name and the look. Enhancement of the QuickBar's functionality will come in dedicated projects later on. We'd love to hear from you about desired QuickBar enhancements!
Keyboard Shortcuts
When we launched the UCP, there was a divide in the creator community about which keyboard shortcut set we should use: the standard MediaWiki set or the legacy Fandom set. With FandomDesktop, we have both! You'll be able to go into your user preferences to decide which set you want to use.
What's coming after that?
This is a bit of a short blog, no? That's intentional. The desktop redesign isn't a project focused on changing the functionality of creator tools, with the exception of Theme Designer (which you can read about here!). It's about the visual refresh of the Community Platform. With creator tools, the scope for this project is making sure they work well and as expected within the new look and feel.
Like I said in the introduction, however, the UCP and UCX projects build the foundation for our work on new tools and experiences. Some of you know that we reorganized our product group at Fandom earlier this year. One of the teams that came out of that change is called the Creator, Admin, Tools, and Staff team (CATS). It is helmed by Jessica Clifford, who ran development of Gamepedia for years. Her team is tasked with building powerful tools and experiences for creators and wiki administrators. Here is what they are currently working on and exploring - which we actively want your feedback on:
Analytics Dashboard Refresh - One of the first new features brought from Gamepedia to Fandom after the merger was the Analytics Dashboard. On both Gamepedia and Fandom wikis, this feature was always intended as a Version 1, and we've heard a lot of ideas for what could go into a follow-up release. The CATS team is looking to refresh the feature to provide more data and improved visualization of the data to our wiki admins.
Admin Dashboard Revamp - The Admin Dashboard is a feature we definitely want to tackle and make even more useful for you. A core focus of the FandomDesktop work has been putting more of the tools you use within reach at any given moment. Enhancing the Admin Dashboard is an extension of that vision.
Improved Moderation Tools - The CATS team is exploring ways to provide better tools for moderation tasks, including brand new tools and enhancements of existing tools.
New Extensions - A core benefit of bringing Fandom up to a modern MediaWiki installation is becoming compatible with a world of MediaWiki extensions once beyond our reach. The CATS team will be a primary driver for vetting new extensions for inclusion on the wiki platform, similar to the old Gamepedia review system, but with a dedicated team working on it as a recurring project.
One more thing…
Interactive Maps
For years, one of the most heavily requested tools from the community has been an Interactive Maps feature. We're beyond excited to announce that it will be one of our first major projects after FandomDesktop is completed. Gamepedia users have been talking about a maps feature for ages, and it's consistently ranked at the top of feature request lists from Fandom users. So when we sat down to decide what features we wanted to build next, this was a no-brainer to have at the top of the list. Not only is it a win for editors, but it's a win for readers who want to dive deeper into the worlds of their favorite shows, movies, games, and more.
We made a limited Maps announcement at Community Connect this past March - to a very excited audience no less! One attendee later remarked that they were glad the event was virtual, because if it was in-person they probably would've stood up and screamed with excitement. That only increased our enthusiasm for bringing this feature to life.
The CATS team is currently in pre-production to determine what Maps can be. They're working with creators who have used other map solutions on and off platform, including creative solutions used within wikis already, to define the scope of the project and desired features for a great experience for both map-makers as well as map users. We're also looking back on the old Wikia Maps feature from several years ago, which didn't accomplish what we wanted it to, but - for that reason - provides important guidance for how to think about this new feature.
We are planning to have Maps go live later this year.
With the UCP and the UCX, the future of Fandom is bright. We have great teams in place to build on the foundation we have created for ourselves. Let's get building.
As always, I will now take your questions.

Fandom Staff
Will was the Global Communications Lead at Fandom, but no longer works here. Before that, he was the Community Manager for Gamepedia and the Gaming Community Manager for Imzy. Outside of work, he hangs at the beach, explores breweries, plays golf, and lifts big weights for fun.
Want to stay up to date on the latest feature releases and news from Fandom?
Click here to follow the Fandom staff blog.
Interested in learning more about community management on Fandom?
Click here to view our community management blog.

Would you like insights on wiki building and usability?
Read through our Best Practices guides for keeping your community growing and healthy.
Want to get real-time access to fellow editors and staff?
Join our Official Discord server for registered editors!