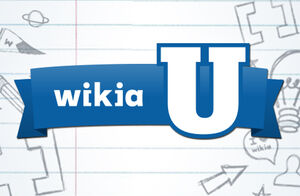 You won't get a shiny diploma you can hang on your wall - but
Wikia University
is still a course worth going through. Maybe you're nodding vigorously right now, because you've already completed every study track, and consider yourself an editing pro. But maybe you're scratching your head instead, wondering what I'm talking about?
What is Wikia University?
Wikia University isn't a real life campus somewhere (although that would be awesome!), but a series of short videos that teach you how to use Wikia. The videos are divided into five study tracks, each one aimed at users on a different level of editing experience:
You can watch all videos as a sequence, or just pick the topics you want to learn about, and watch them individually. Each video page also includes links to further resources on the topic, and of course, you can always go to the forums if you still have questions about what you just learned.
What Are You Waiting For?
If you didn't know Wikia University existed: Go check it out! If you've already watched some of the video tutorials: We'd love to hear what you think. Did they help you? Why/Why not? Maybe some of you prefer reading a help page over watching video tutorials altogether when you're trying to acquire a new editing skill?
More Videos are coming
We're constantly adding more videos to our study tracks. What do you think our next video should be about? What topics are still missing from Wikia University? Tell us in the comments!
Want to stay up to date on the latest feature releases and news from Fandom?
Click here to follow the Fandom staff blog.
Interested in learning more about community management on Fandom?
Click here to view our community management blog.

Would you like insights on wiki building and usability?
Read through our Best Practices guides for keeping your community growing and healthy.
Want to get real-time access to fellow editors and staff?
Join our Official Discord server for registered editors!
Community content is available under
CC-BY-SA
unless otherwise noted.