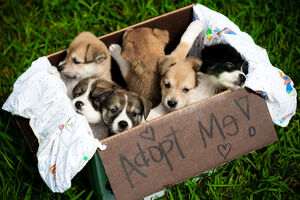 A little while ago, Sannse discussed all of the ways you can work on a wikia without admin rights. Today I want to talk about what happens when you've done that and you are ready to take the next step and become an admin. If there is an active admin then you will need to talk to that person (tips and hints for that found in another of Sannse's excellent blogs here). But what if there is no administrator currently working on the wikia? In that case, the solution is to adopt the wikia.
What does "adopting a wikia" mean? It means that you volunteer to help take care of the wikia and build it into something better. You will get administrator and bureaucrat tools so you can customize the appearance, delete spam, block vandals, and promote other users to help you as admins themselves. It does not mean that you will "own" the wikia -- wikias are community projects. If your goal is just to merge the wikia with another, more active one, you do not need to go through an adoption process first -- adoption is for wikias you intend to build and improve.
Which wikias can be adopted? Any wikia which does not have an active administrator in the last 60 days is eligible for adoption. You can check this by going to Special:ListAdmins on the wikia that interests you. Check the last edit date for any admins - if no admin has edited in the last 60 days then the wikia is free for adoption.
If somebody in the list has edited in the last two months, don't despair! Just go ahead and contact them on their talk page or wall to ask about gaining admin rights to help them out. If the user is a bureaucrat, they can give you those rights through the Special:UserRights page; if they are only an admin but wish to promote you, they can ask for bureaucrat rights themselves through the adoption requests page, or just post their support for an adoption request that you make. If they do not answer your message after a week, go ahead and put in an adoption request; we will be happy to review the situation.
Who can adopt a wikia? Any active contributor with an account can adopt a wikia! "Active" means somebody who is editing content regularly when the request is made, and working to improve the wikia. Admins who want to gain bureaucrat rights can also adopt. And two (or more people) can adopt a wikia together if they wish to share the work.
One requirement that causes some confusion says that the adopter cannot be blocked on any other wikia. This is not a black and white requirement however. When we review your request, we will look at your contributions on any wikia where you are blocked and ask the question, "Do I think this behavior is inappropriate for an admin?" The block will only count if the answer is yes. So if you've been blocked on a wikia where you've never edited, we aren't going to count that. If you were blocked 2 years ago because you were mis-categorizing pages but have been editing responsibly ever since on other wikias, we won't hold that against you either. On the other hand, a recent block for harassing other contributors, or vandalizing pages, or chat invasion does count.
Great! I'm ready! What do I do? Go to the Adoptions Request Page, and review the more detailed adoption criteria to make sure you are following our best practices. If you haven't already done so, edit the wikia regularly, every day or two, for at least a week and create at least one new page.
If there are other active contributors on the wikia (check for anybody who has edited in the last month in Special:ListUsers) you need to tell them about the adoption. You can leave a message on their wall or talk page, or you can start a blog or forum if there are a bunch of active contributors. It's ok if they don't respond, but they need to at least have the chance to give input on your promotion.
Then fill in the form to create your request. If there is already a previous request for your wikia, just add a number to the name -- such as "Adoption: Glee Wiki (2)". You can do a joint request with another contributor on your wikia if you wish to do so.
While you are waiting for us to review your request, keep editing! We need to see that you are really committed to helping the wikia and that the request wasn't just a passing whim. Just because you have edited for a week, don't stop and wait to see what has happened -- keep going! The more you edit the better.
Getting an Answer: Keep an eye on your request; staff usually answers in about a week, but other contributors on Community Central often look over the requests and can give good advice about how to make sure you get the rights. The adoptions are answered in the order they are made, so you can check your position in the list on the adoptions page to see how soon we might answer. If you have any questions or doubts at all about the process, please ask a staff member on their wall.
When we answer the request, we check through the adoption criteria. If you meet all of it then we grant you admin and bureaucrat rights, demote any admins who have been inactive for more than one year, and mark the request as completed. If either you or the wikia is not eligible to adopt then we simply close the request.
If you are mostly qualified to adopt but are missing one thing (for example, you only contributed to the wikia for a few days), then we will put the request "On hold" and give you a chance to fix this. When you are ready for us to check back, send a message to whichever staff member answered your request on their wall asking them to check again.
International Adoptions: Different languages may have different requirements for adoption, or even different ways of interpreting the requirements for adoption. This overview and our way of interpreting the adoption guidelines is primarily for English-language adoptions. If you have questions about international adoptions, it's best to ask the Wikia community manager or Helper who oversees that language. You can see a list of languages with formal adoption request pages on the English adoption page, in the "International adoption request links" box. If your language is not listed there, you can still adopt -- just make your request on the English language page.
We hope you will consider adopting your favorite admin-less wikia. If you've already adopted a wikia, how was your experience? Were you able to revitalize the community? Share your adoption stories below!
Want to stay up to date on the latest feature releases and news from Fandom?
Click here to follow the Fandom staff blog.
Interested in learning more about community management on Fandom?
Click here to view our community management blog.

Would you like insights on wiki building and usability?
Read through our Best Practices guides for keeping your community growing and healthy.
Want to get real-time access to fellow editors and staff?
Join our Official Discord server for registered editors!
Community content is available under
CC-BY-SA
unless otherwise noted.