When I first started at Wikia, I was amazed at how many wikis existed — there were (and still are!) so many wikis I wanted to get to know. But to be honest, I was too intimidated to start my own. I thought, "Wow, there's so much information here; users have put so much time and energy into creating these wikis. I'll just sit back and read — I don't need to start my own."
I thought a lot about my "look, don't touch" mindset on Wikia, and wondered how many users might feel the same way. I realized a good way to kick-start the discussion would be to share some advice about creating online content. The tips in this blog post can apply to any wiki, and I hope that you'll add your experiences in the comments below.
The Backstory
After writing my first blog post in 2005, I became passionate about blogging. I realized, "Hey, I can share my thoughts and knowledge, and people I might not know will interact with me... plus, it's fun!"
In 2007, I got serious about blogging. I noticed a void in the blogosphere for discussions about new contemporary art with a female perspective. So, I started a blog about street art, new contemporary art, and DIY culture. In the beginning it was really intimidating, but now my blog is one of the go-to places for the new contemporary art community.
Here's how I got my blog to where it is today. All of the things I did (and continue to do) you can apply to your wiki and your editing experience.
Start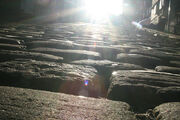 There is a Japanese proverb that says "A thousand mile journey begins with one step." Sometimes, getting started can be the hardest step. It might be scary to
start a wiki
and stare at a blank page, but once you take the first step, everything else will fall into place. Don't let the blank page hold you back — just write. Remember, you can always go back and edit later. You have to start somewhere — so why not
start a wiki
?
Create Community
After starting my blog, I got really involved in the community. I found other blogs that I admired and left comments. Find wikis that inspire you or are similar to your wiki; then, become part of the community. Edit often, and be friendly. On Community Central, read and learn from the forums, get involved and answer other users' questions, and find out what's going on at Wikia through our staff blog. Also, visit fan sites outside of Wikia that share your interests. You'll be able to share your wiki and you might even attract some new editors.
Use Social Media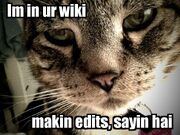 Once your wiki has a fair amount of content, you can share your pages, articles, and blog posts through social media. Create a Facebook fan page for your wiki and ask your friends and family to join. Join Twitter and follow people that you admire.
Here's a great tip for keeping your social media accounts dynamic: share general links and articles about your wiki's subject. For example, if your wiki is about photography, you could post links about new camera models on your Twitter and Facebook feeds, even if that content isn't on your wiki yet.
I shared my blog in every online space I could find, especially on all of my personal social networking sites in the "About Me" section. Also, customize your email signature with your wiki address; everyone you email will see it.
Be Industrious
I made business cards and gave them to everyone who was interested. I realize "business cards" sound a bit stuffy, but think of them as just another opportunity to share what you are doing with friends and people you meet. There are many great sites like Moo where you can customize business cards with your own photos; or, you can get crafty and make your own.
Don't Spam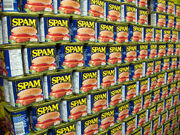 It's so important to love what you do and share it with others, but be careful not to spam. Spamming is when you promote your site in areas where it may not be appropriate. There is a fine line, so pay attention to the community you are in, be aware of the subject matter, and follow policy. I know it's exciting to share your wiki with others, but make sure you are not just shouting about your wiki in every online space.
If you've started a wiki, please share your advice in the comments below. What motivated you to start? What did you do to promote the wiki?
Newbies, we want to hear from you, too. What obstacles are preventing you from starting a wiki? Do you have any questions for founders? Share your experiences in the comments below.
Are you a Founder or Admin? Want to receive tips, tricks and updates on the latest Founder & Admin blog posts? Then click here to follow this blog.
Community content is available under
CC-BY-SA
unless otherwise noted.