Today, we're really excited to announce the upcoming launch of two new features: the Wiki Progress Bar and Admin Dashboard.
Over the past few months, we've started to focus on founder experience on Wikia. We understand that building wikis can be a lot of work, especially if you are not familiar with the foundation of a wiki. One thing we hear often from new users is, "Okay, I started my wiki... now what? Help!" With this in mind, we built two new features to make the entire user experience easier. The Wiki Progress Bar will help founders build a wiki, and the Admin Dashboard will help admins run and maintain a wiki. These features will go live this Wednesday July 20 for all new wikis.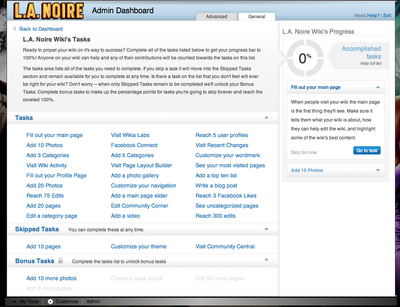 Wiki Progress Bar
When I first came to Wikia, I had never used a wiki before; I was really confused about where to begin. Guess what? This is a common issue we hear from new founders. So, we brainstormed how we could help guide all founders in a way that's both fun and informative.
The Wiki Progress Bar leads founders through the first few days and weeks of creating a wiki. The goal is to help founders jump-start their wiki with specific calls to action, like "Add Ten Pages," "Customize Your Theme," and "Fill Out Your Main Page." It walks new users through these important first steps. When these tasks are completed — regardless of who finishes them — the specific tasks turn grey. Once that happens, voilá! Your Wiki Progress Bar will climb to 100%, which means you've completed the basic tasks to get your wiki up and running.
Before, founder and admin tools were in various places across the site — in areas like Preferences, Special Pages, and My Tools. This made it hard to find the tools admins needed to make their experience easier. We developed the Admin Dashboard to create a contained, centralized space that highlights the most important tools and give users a better understanding of how best to build their wiki.
Release timeline
When we launch on July 20, only new English wikis will have both features enabled.
The Admin Dashboard will be released on existing wikis around the first week of August, and the Wiki Progress Bar will be released on existing wikis with less than 250 edits in the near future.
Keep in mind that these features are just in their first versions. For example, right now, there are still a few more features we'd like to see in the Admin Dashboard. Some of the tools we hope to add: cleaner versions of statistics, easier ways to invite users, and the ability to turn features on and off without having to use Special:Contact.
What do you think?
We want to hear from you! Do you have ideas about new tools for advanced admins you'd like to see in the Admin Dashboard? What other tasks would you like to see listed on the Wiki Progress Bar?
As always, we'll be reading and responding to your comments. Please leave suggestions you may have and any other constructive feedback in the comments below.
Update 1:10 pm, July 20th
The Admin Dashboard & Wiki Progress Bar are now live and available on all new EN wikis. Have fun!
Update 6:05 pm, August 4th
The Admin Dashboard is now live on all existing EN wikis. Please leave comments and feedback below.
Are you a Founder or Admin? Want to receive tips, tricks and updates on the latest Founder & Admin blog posts? Then click here to follow this blog.
Community content is available under
CC-BY-SA
unless otherwise noted.