Hello there!

My name is Lucy and I'm writing this post to promote the Red Sparrow Wiki. I've became an admin of the wiki recently and I'm working to update it with new information and a better design, but... as you know, a Wiki is not made of just one person. So I come to ask you please, to take a look at the Red Sparrow Wiki! We really need help from as many people as possible!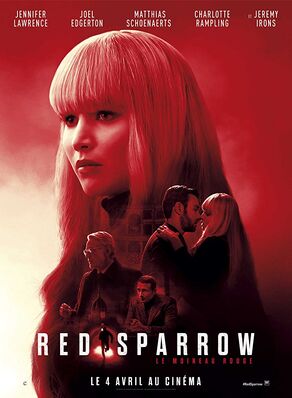 Red Sparrow is a trilogy of espionage books writen by ex-CIA officer
Jason Matthews
. The first novel had a film adaptation released on March of this year, staring Jennifer Lawrence, Joel Edgerton and Matthias Schoenaerts. The story follows
Dominika Egorova
and
Nate Nash
, two intelligence officers who must deal with the risks of being involved in a hostile environment such as modern espionage. Diplomacy, secrets and confronts of power are some of the big elements present in this verisimilar series of espionage. These elements are also the reason I got so interested in the subject and writing about it.

By the time I'm writing this post, the Red Sparrow Wiki has about 20 pages, and around the same number of wanted pages waiting to me created! Pages of characters, organizations and books for instance, already have the basic information but they need to be expanded. Our priorities are main characters such as Dominika and Nate, but you can colaborate with any page you'd like to! I encourage you to read our Welcome Message to learn more about the wiki's development. Let's turn this wiki into a real Community!

If you know someone who might be interested in it, please share this page with them! Or if by any chance you enjoy espionage books and films, you should definitely check Red Sparrow!
Well... and if you're a fan of the trilogy, what are you waiting for? Join us now!

Thank you for reading, and I hope to see you soon!
Community content is available under
CC-BY-SA
unless otherwise noted.