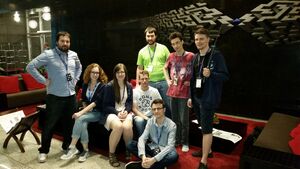 Every day, Wikia staff interacts with users like you as part of Community Support, Community Development, the Fan Contributor Program, and more. You've probably had some interaction with staff at some point too. What a lot of people don't know, though, is just how many languages staff represent, and how many users are able to talk to staff members who speak their own language - as opposed to just English.
Wikia currently has Community staff members for English, Spanish, German, Portuguese, Chinese, Japanese, French, and Russian, covering both the Community Support and Community Development teams. This is the largest group of international staff members Wikia's ever had, but even that's not enough to cover the many different languages that users speak on Wikia.
That's where the International Volunteer Team (IVT), and the tremendous help they provide communities and staff, comes in.
What is the International Volunteer Team?
The IVT is a team of experienced Wikia community members who volunteer their time to work on international communities. They cover a number of languages, including Spanish, German, French, Italian, Japanese, Korean, Dutch, Polish, Russian, Finnish, and Vietnamese. All of these team members have a special user right known as Helper, which you can see on their user profiles. You can learn more about the members of the IVT here.
What are the responsibilities of the International Volunteer Team?
The IVT's main responsibility is to support international communities and users. They do this by answering questions in local community forums and chat, writing help pages, and translating blog posts into their respective languages. Additionally, they often provide assistance with CSS or JavaScript questions, as well as basic to even advanced levels of wikitext support. They also provide users support in solving community issues (like dealing with spammers, vandals, or user disputes), as well as with adoption and spotlight requests.
Other important things they're working on are projects to improve language-specific community engagement - every nation and every language has different kinds of users, so not every idea works for all languages - so selecting topics for new communities we could start based on cultural trends is important.
Wikia Features & Internationalization
The IVT works closely with Community staff members to make sure features are properly translated, to be on the lookout for issues that may occur on a specific language before release, and to provide feedback from their communities and users. It's important that Wikia features are properly translated into the most amount of languages so users who don't understand English can enjoy and use them on their communities as well.
Another interesting project the IVT works on is the design of communities, including adapting logos and graphics into other languages. It's important for a community to have an appealing main page so users know that there's an active community working to build the content. After all, a community's design can be a determining factor in whether someone chooses to start editing there or not. Part of the IVT's engagement work also includes managing Wikia's international social media feeds to keep users updated on news about the company and their respective languages.
Community Connect - Poznan
Two weeks ago, we held our first Community Connect event of the year at our office in Poznan, Poland (the second one will be in two weeks, in San Francisco). Community Connect is an event where we bring dozens of community admins and Fan Contributors to our offices to tell them about what features we're working on, what our goals and vision are for the future, and to get their feedback on what we're working on.
This year, one of the presentations we added in Poznan was an introduction to the IVT presented by Yatalu, one of the team's members who works with the Dutch community. She told the attendees all about the team and what they do, providing a lot of new insight about how Wikia operates to everyone at the event. We were really excited to have our first-ever user presentation, and we could think of no better topic than telling people about all the amazing work that the IVT does for international users and communities.
It's impossible to fully sum up, in a single blog, the tremendous amount that the International Volunteer Team does for our international communities, but we hope that this overview gives you even more insight into how Wikia operates. Wikia's success is based on you and your communities, and the International Volunteer Team is a natural extension of that. Wikia's internationalization efforts are always ongoing, so the IVT will continue to be a major contributor to our international successes.
Want to stay up to date on the latest feature releases and news from Fandom?
Click here to follow the Fandom staff blog.
Interested in learning more about community management on Fandom?
Click here to view our community management blog.

Would you like insights on wiki building and usability?
Read through our Best Practices guides for keeping your community growing and healthy.
Want to get real-time access to fellow editors and staff?
Join our Official Discord server for registered editors!