Your Help Wanted in the Most Important Gaming Event this Summer: The 2012 Video Game Olympics!
Wikia Games Nerd-in-Chief Lizzunchbox (aka George Jones) here again. You may remember me from such edge-of-your-seat posts such as Greetings from Wikia Games and, well, um, that's it. Hey, I'm the new guy.

This month, I want to write about something we have planned that we're all really excited about. A few months ago, managing editor Peter Klambach and myself were talking about the Olympics, and what we could do across Wikia Games to celebrate the occasion. In a split second, we both had the answer. We'd stage a Summer Olympics of our own, and enlist the entire Wikia Games community to help!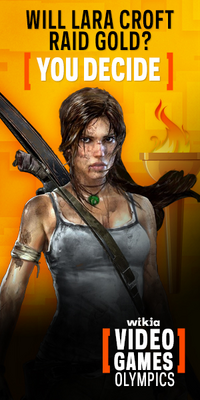 So, this Summer 2012, we're happy to announce our first ever Video Game Olympics. Have you ever wondered which gaming character would win a 100 Meter sprint? How about Archery? Equestrian? Speed Walking? We decided to settle it all in a full-on Olympics voting contest, where you'll decide the winners of 15 different events over the course of 3 weeks. (For the record, my picks are Sonic, Link, Yoshi, and...Marcus Fenix.)
The voting will begin on July 27, and we encourage you to not just vote on who you think would win each contest, but to explain why in the comments section of each event. This page will contain all the results as well as links to the events themselves. And sites who have characters participating in the Video Game Olympics will have this torch on their wiki:
So, join the fun - and and the conversation. This is way better than going to London!
One final note: Thanks for all your responses around my call to action back in June. I'm in touch with a number of you, and it's paying off with some cool stories, interesting game-industry opportunities, and some fun promotions at our Wikia Games hub, so please keep 'em coming!
Want to stay up to date on the latest feature releases and news from Fandom?
Click here to follow the Fandom staff blog.
Interested in learning more about community management on Fandom?
Click here to view our community management blog.

Would you like insights on wiki building and usability?
Read through our Best Practices guides for keeping your community growing and healthy.
Want to get real-time access to fellow editors and staff?
Join our Official Discord server for registered editors!
Community content is available under
CC-BY-SA
unless otherwise noted.