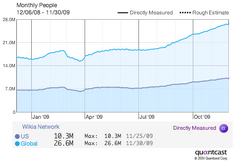 Hi everyone! With the Fall season about to wrap-up, it's time for another update!
In October, a record 54,000 editors made a record 1.6 million edits to a record 3.1 million content articles! Do you sense a record breaking theme?! More than 26 million people visited Wikia, making it the 75th most popular website in the United States. Furthermore, Wikianswers skyrocketed from 50,000 questions in the last update to over 400,000 questions today. Wikianswers is now one of the five most-visited sites on Wikia. Have you seen it?
To make sure you know what's going on at Wikia, we created the Wikia Staff Blog and invited staff members from various positions to post updates. More to come, so be sure to check back on a regular basis. While we are working on better ways for you to track blogs and blog comments, you can add the Wikia Staff Blog to your RSS reader using this feed.
Changes this Fall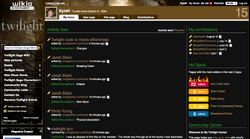 As you may know, there have been some exciting enhancements recently to both the user interface and the back-end of the site. A few examples:
In the Pipeline …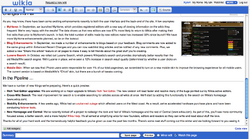 We also have a number of new things we're preparing. Here's a quick preview:
Rich Text Editor upgrades: We are working on a major upgrade to Wikia's Rich Text Editor. The new version will load faster and resolve many of the bugs pointed out by Wikia active editors.
Cross-Wiki Search: The next improvement for search is to enable searching for articles across all wikis at once. We'll start by adding this functionality to the search on Wikia's homepage (www.wikia.com).
Stability Enhancements: A few weeks ago, Wikia had an unplanned outage which affected users on the West coast. As a result, we've accelerated hardware purchase plans and have been conducting failover tests.
New Homepage and Central: We've recently kicked off a project to redesign the look and feel of Wikia's homepage and the rest of Central (www.wikia.com). As part of this, you'll see more community focused areas, a better search, and a more helpful Wikia Help. It's all aimed at simplifying wikis for new founders, editors and readers so they can write and read about stuff the love.
Thanks for all of your hard work and the tremendously helpful feedback you've given us over the past few months. There's some neat stuff coming out this winter and we looking forward to showing it to you.
Want to stay up to date on the latest feature releases and news from Fandom?
Click here to follow the Fandom staff blog.
Interested in learning more about community management on Fandom?
Click here to view our community management blog.

Would you like insights on wiki building and usability?
Read through our Best Practices guides for keeping your community growing and healthy.
Want to get real-time access to fellow editors and staff?
Join our Official Discord server for registered editors!
Community content is available under
CC-BY-SA
unless otherwise noted.