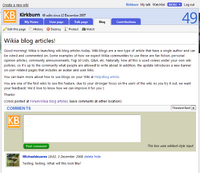 Wednesday we will be launching two new features: Wiki Blogs and the User Masthead.
Wiki blogs are a new way for you and your community to contribute to your wiki. Wiki blogs are similar to normal blogs in that posts are attributed to a single author, are time stamped, and have a comment section. The wiki twist is that all posts are combined together into a central community blog or multiple blogs defined by category. Blog posts and comments are recorded in the Blog namespace and are logged in Recent Changes.
Blogs can be used to write personal opinion articles, community announcements, Top 10 Lists and fan fiction, just to name a few. We encourage each community to develop their own blog policies to encourage proper usage.
A default Blog Listing Page will be created for your wiki, with a navigation element added to the Sidebar. You may also want to add the Blog Listing Widget to your main page (see Lostpedia for example) to showcase the latest blog posts written.
You can see blogs live now on Lostpedia, Avatar Wiki and Redwall, and you can try them out yourself on Community Test Wiki
User Masthead is new section appended to the top every user page which displays user specific links including link to the new User Blog. This masthead also has a place for each user to have their own avatar. Avatars can be added/changed in Special:Preferences.
We realize that some communities may not be ready for these new features, so if you would prefer that we not enable blog articles on your wiki, please let us know here.
Thanks!
Want to receive updates on the latest Staff blog posts? Then click here to follow this blog.