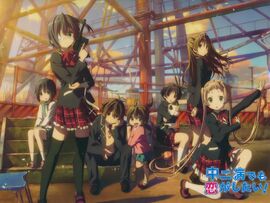 Hello Wikians! I'm Kitsunes97, and I would love for everyone to know about Chūnibyō Demo Koi ga Shitai! Wiki.
Chūnibyō Demo Koi ga Shitai! follows Yuuta Togashi is a boy who, during junior high school, suffered from "chūnibyō", believing that he possessed supernatural powers and calling himself the "Dark Flame Master", therefore alienating himself from his classmates. Finding his past embarrassing, Yūta attempts to start off high school where he does not know anyone, free from his old delusions. This proves to be difficult, however, as a delusional girl in his class, Rikka Takanashi, learns of Yūta's past and becomes interested in him.
So far there is nobody support this wiki, and 138 pages on the topic, but we're growing by each episodes and characters! The "Chūnibyō Demo Koi ga Shitai!" series is one that won't die off easily, as fans everywhere love the characters & Freeform is absolutely showing an interest in keeping it going.
If you take an interest in Chūnibyō Demo Koi ga Shitai!, feel free to stop by!
I hope you enjoy the wiki, maybe even check out the series (unless you watch it already), and hopefully become an active user! We are always looking for great contributors to promote too!
Community content is available under
CC-BY-SA
unless otherwise noted.