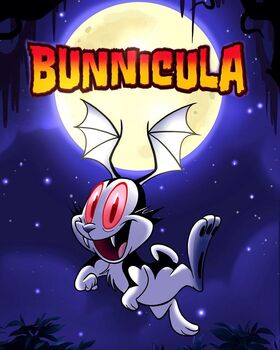 Hello Wikians! I'm Kitsunes97, and I would love for everyone to know about Bunnicula Wikia. It's a wiki about the new TV series currently have Seasons One-Two and will have Three soon. It is currently on Boomerang SVOD (if you have one).
Bunnicula follows Bunnicula, a vampire rabbit carrot juice instead of blood to strengthen up his super abilities in new paranormal adventures with two pets named Chester, a cat terrified of the monsters and supernatural phenomena that happens around him and Harold, a mix breed dog, funny, not sharpest tool in the shed and their owner named Mina, 14 years old teenager girl live with her father and have curious attitude.
So far we have one admin, and 193 pages on the topic, but we're growing by each episode! The "Bunnicula" TV series is one that won't die off easily, as fans everywhere love the series & Freeform is absolutely showing an interest in keeping it going.
If you take an interest in Bunnicula, feel free to stop by!
I hope you enjoy the wiki, maybe even check out the show (unless you watch it already), and hopefully become an active user! We are always looking for great contributors to promote too!
Thank you!
Community content is available under
CC-BY-SA
unless otherwise noted.