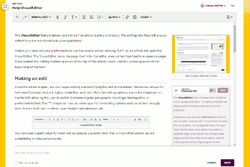 Greetings Wikia!
It has been a few months since the last VisualEditor update, and a lot has been happening in that time. Today, I am bringing you an update on all our recent improvements, news of an important change coming this month, and our future plans for the VisualEditor.
Recent improvements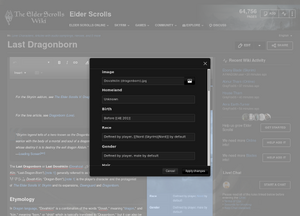 In the last four months, we have overhauled the template tool, making sure it shows all parameters in a more intuitive order, adding filtering, allowing the dialog to be moved and greatly improving the experience when inserting a new template. We have added link suggestions to the editor's source dialog, and solved many of the remaining 'dirty diff' causes, while updates from the Wikimedia Foundation have significantly updated how complex templates are rendered, improved media drag-and-drop behaviour, and much more. Additionally, the editor is now available on more namespaces (Category, Project and User), and we are continually working hard to improve the editor's performance, reliability and stability.
All of these tweaks are helping more and more users quickly and easily add and improve content across Wikia.
The great migration
Over the course of October, due to the success of the VisualEditor and to simplify the editing options on Wikia, we plan to switch logged in users who have their editor preference set to 'No preference' (the default) over to the VisualEditor.
This rollout will be gradual, and anyone affected can continue to change their editor preference via Special:Preferences. The option to use the alternate editor via the Edit button dropdown will also continue to be available.
Note that anonymous editors already get the VisualEditor by default globally (barring a few very specific situations), and the change will have no obvious effect on wikias who have flipped their VisualEditor WikiFeatures Labs preference to 'Enabled'.
At some future point, not yet set in stone, we plan to phase out the classic rich-text editor - but the classic source editor is not going away. We will be continually reviewing usage of the classic rich-text editor to help advise our plans.
Future plans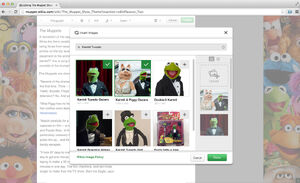 We are currently working on an overhaul to the media tools, expanding their functionality to include editing and creating galleries and the ability to quickly upload multiple images at once, along with further bug fixes and performance work.
In the further future, users can look forward to table editing tools, Internet Explorer 11 support, improved behaviour on touch devices, and more. In tandem with the work of Wikimedia Foundation, there is no end in sight for editor improvements!
In summary
The 'No preference' editing preference is going away. Users on it will be moved to the VisualEditor. You are still in control of which editor you see.
Thanks, and feel free to leave any questions or feedback in the comments section below!
Want to stay up to date on the latest feature releases and news from Fandom?
Click here to follow the Fandom staff blog.
Interested in learning more about community management on Fandom?
Click here to view our community management blog.

Would you like insights on wiki building and usability?
Read through our Best Practices guides for keeping your community growing and healthy.
Want to get real-time access to fellow editors and staff?
Join our Official Discord server for registered editors!