Here are the latest technical updates at Wikia. Keep in mind that our system updates happen every Wednesday, so we're posting this on a Tuesday to give you advance notice. Also note that we change hundreds of tiny details every week, so these are just the highlights.
Notable Changes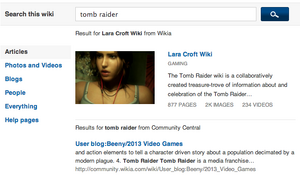 The layout of file pages on Community Central, the Wikia Video Library, Aion Wiki and wikis in the Lifestyle hub are updated with some of the changes requested by the Wikia community:

File information is organized into tabs: About, File History and Metadata (when metadata is present).
The tab you last viewed will be remembered via a browser cookie and will remain selected for you on all wikis.
The About tab includes a WhatLinksHere link.

Community Central search will now check for wikis that match your search query, and return the top result. For example, if you search for "Tomb Raider", the Lara Croft Wiki will be listed above the normal search results.
QATestsStaff, an automated account used by our QA staff, was being used to welcome users. Since it is a bot and test account, we have removed it from the pool of staff members that sign welcome messages.
Select Known Issues
We are investigating some issues with the welcome tool using user accounts to post messages, rather than the 'Wikia' account.
Questions? Comments? Feel free to leave them below. And if you have additional bugs to report, please send them to us via Special:Contact.
Want to be notified about technical updates when they are posted? Then click here to follow this blog.
Community content is available under
CC-BY-SA
unless otherwise noted.